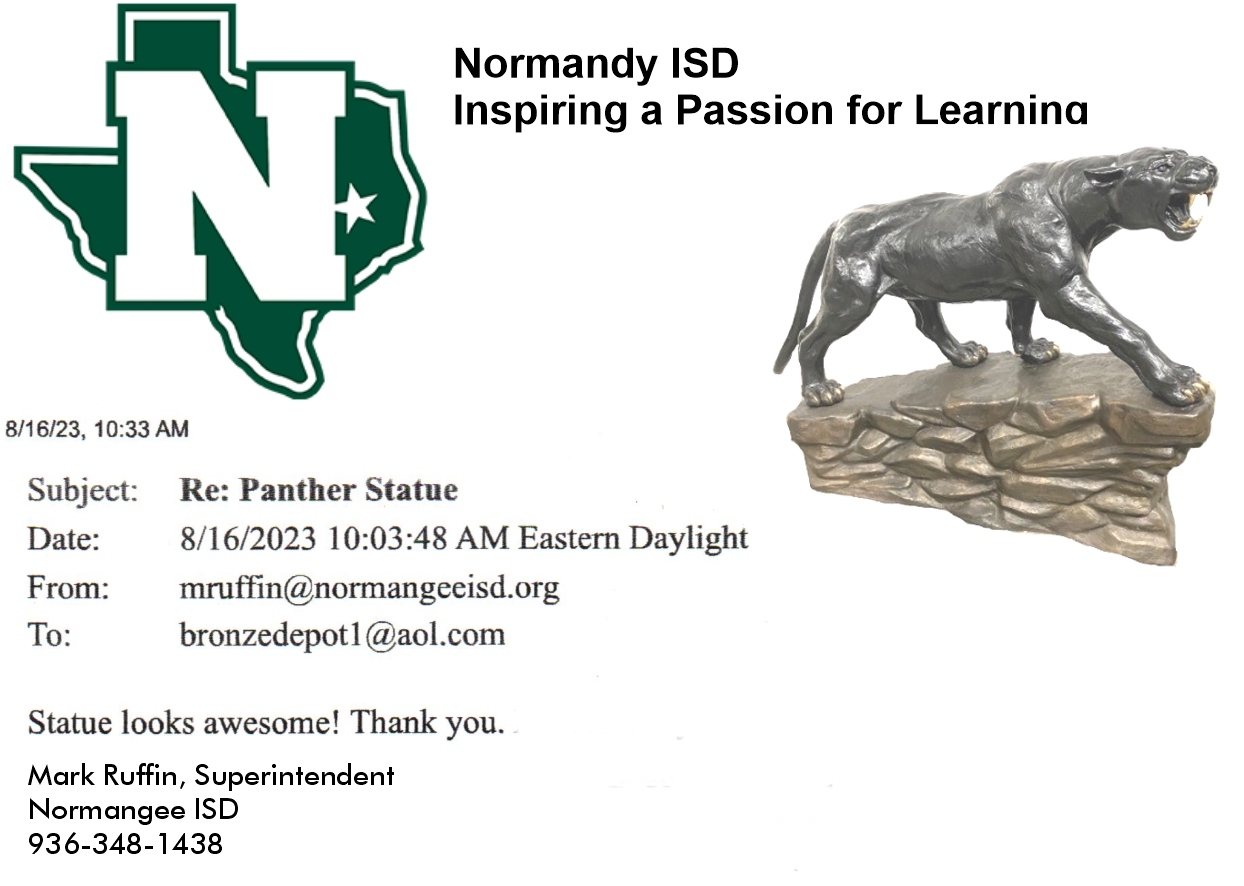 Normangee ISD High School Mark Ruffin, Superintendent "Statue looks awesome! Thank you."
Bronze Panther Mascot Statue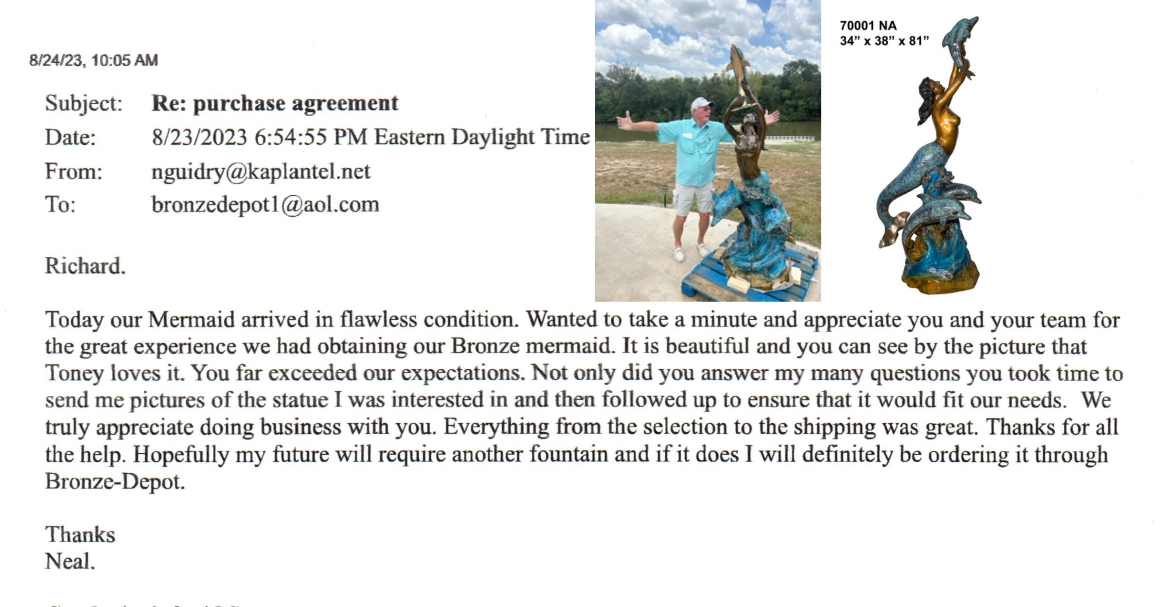 Bronze Mermaid Fountain "You far exceeded our expectations"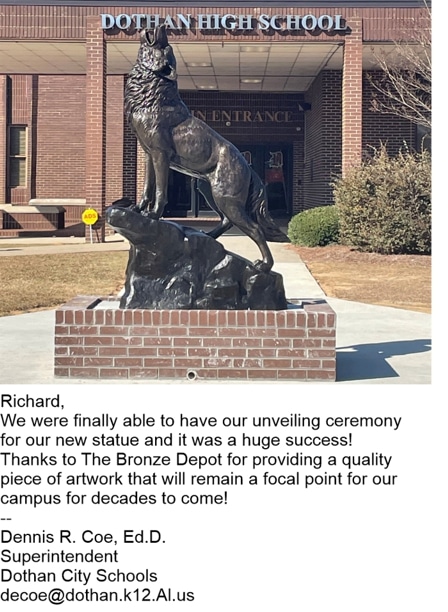 DOTHAN HIGH SCHOOL Dr. Dennis R. Coe, ED.D Thank you for a quality piece of artwork.
Bronze Wolf Mascot Statue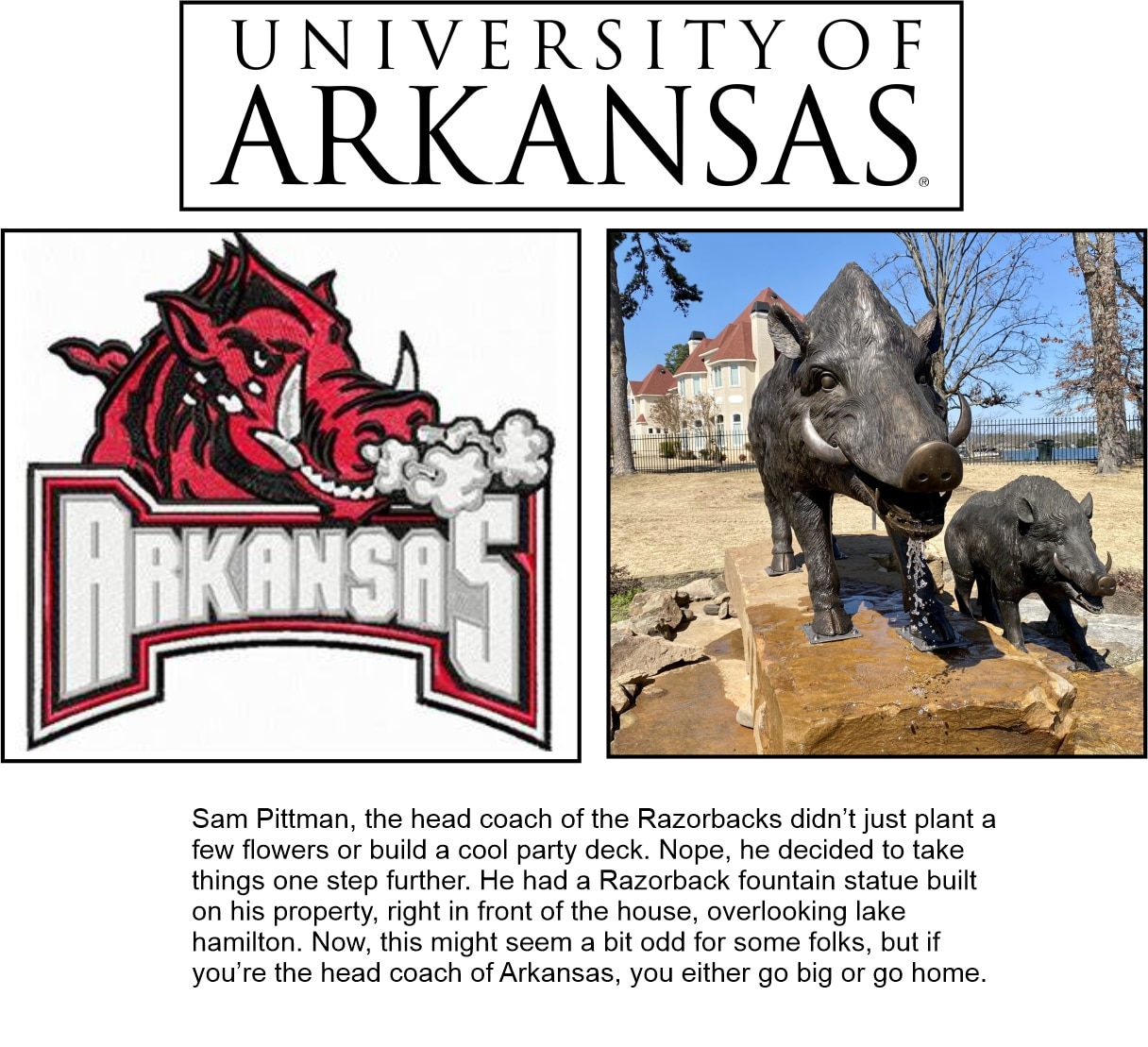 Coach Sam Pittman's Razorback Fountain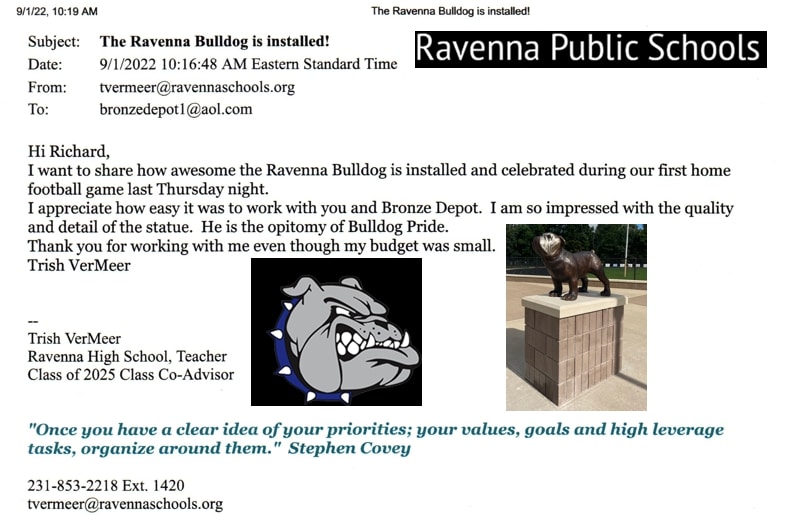 Ravenna High School Trish VerMeer, Class Advisor, I appreciate how easy it was to work with you.
Bronze Bulldog Mascot Statue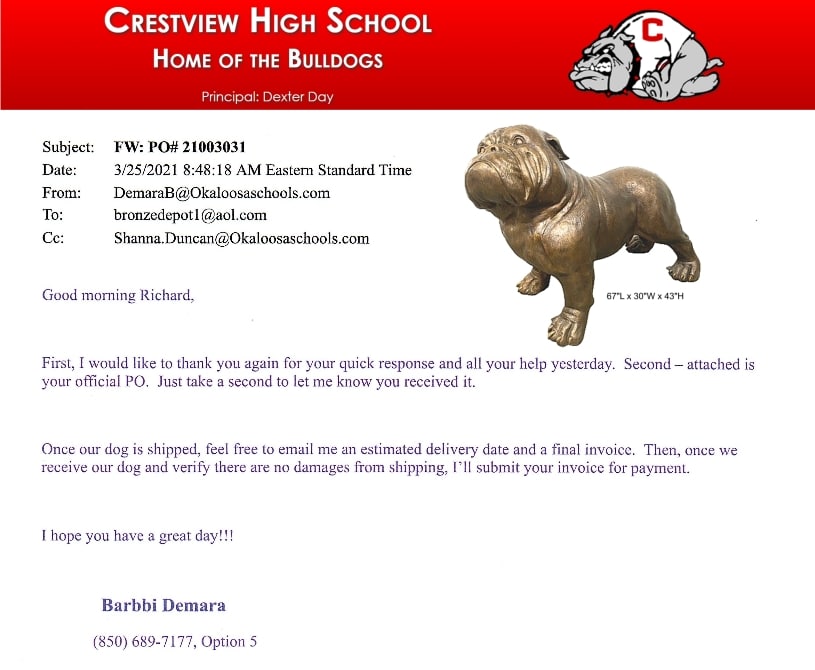 Crestview High School Thank you for your quick response and help!
Bronze Bulldog Mascot Statue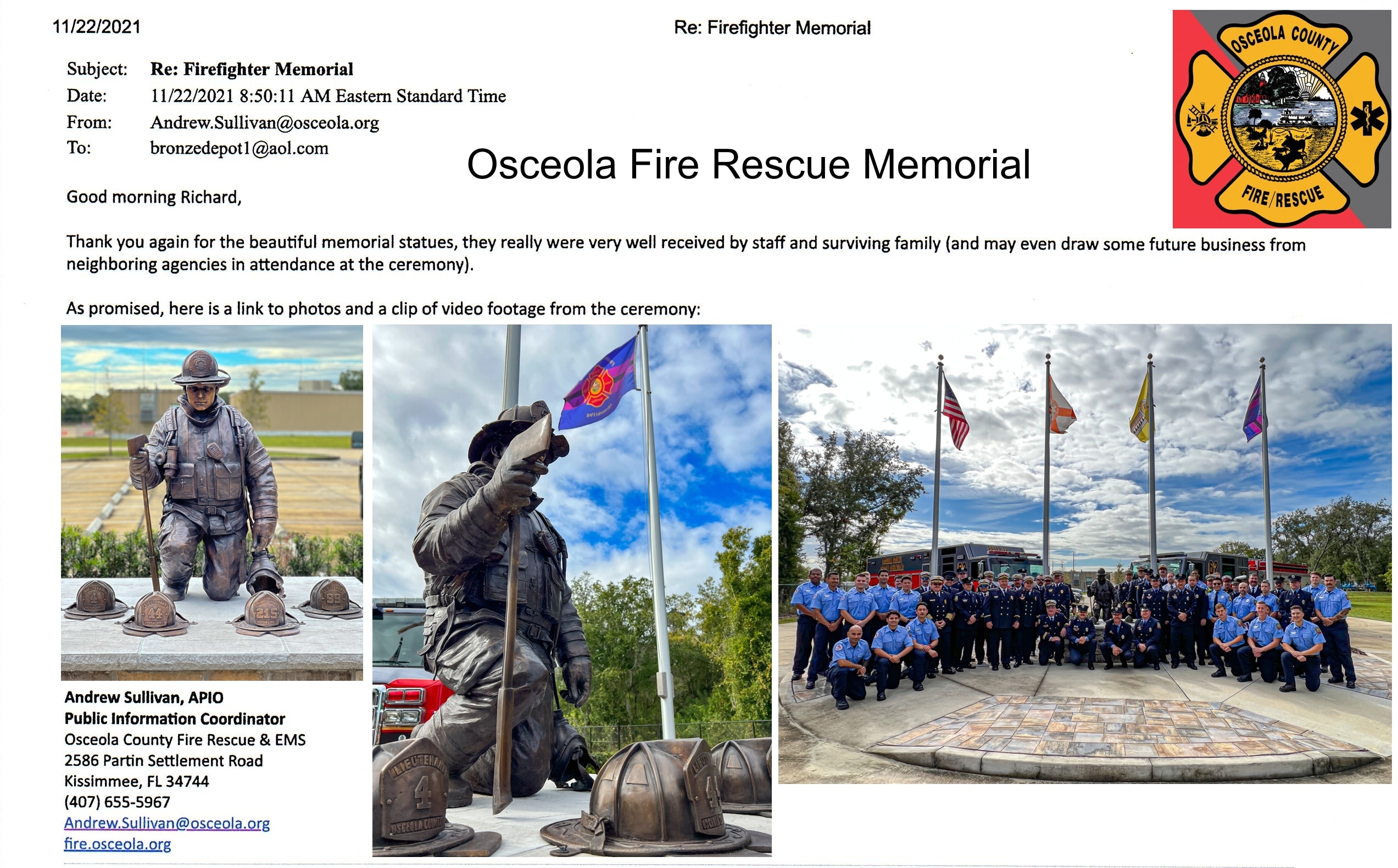 Bronze Firefighter Memorial Statue Andrew Sullivan, APO Thank you again for the beautiful memorial statue.
Bronze Firefighter Memorial Statue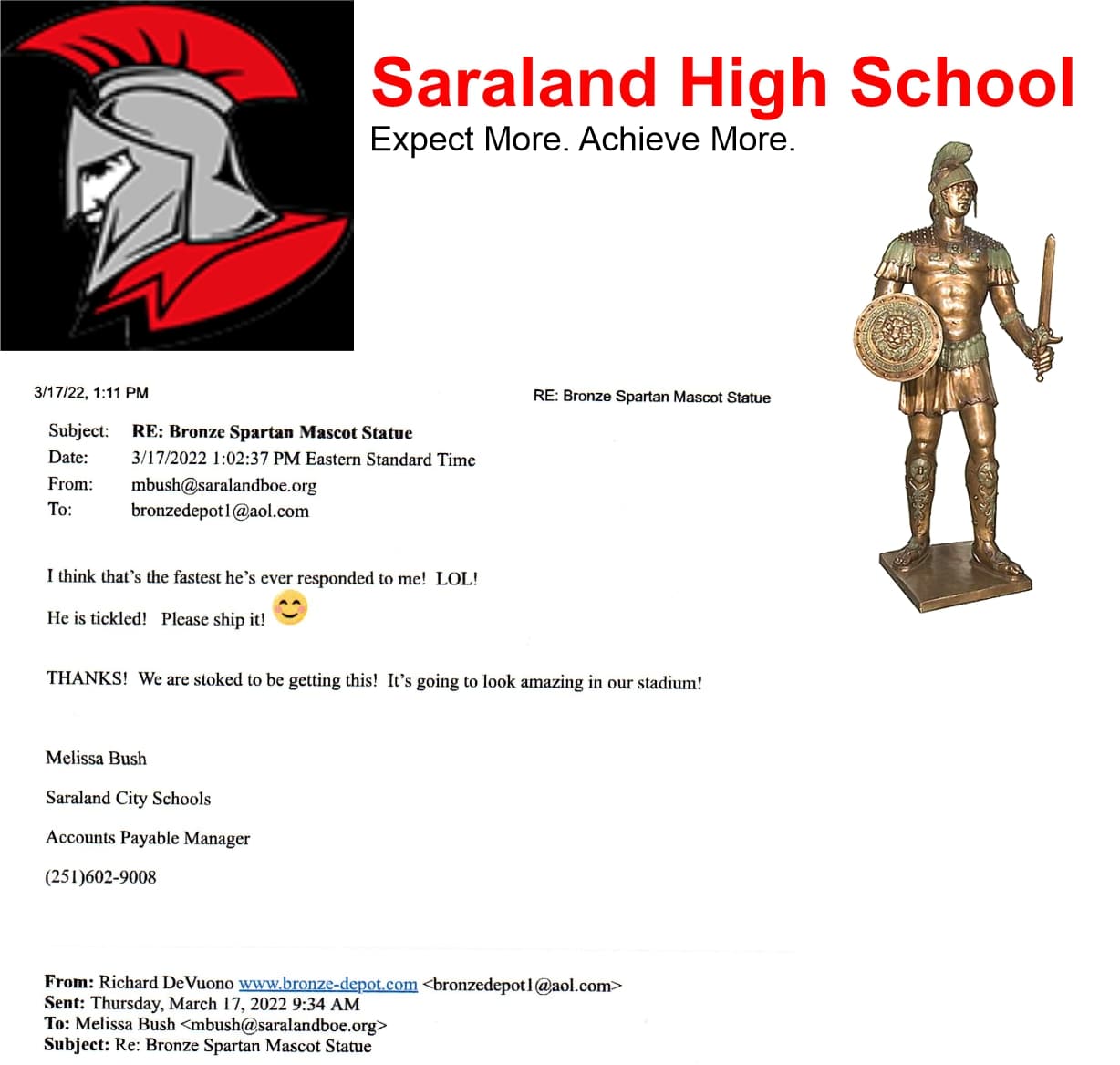 SARALAND HIGH SCHOOL It's going to look amazing in our stadium!
Bronze Spartan Mascot Statue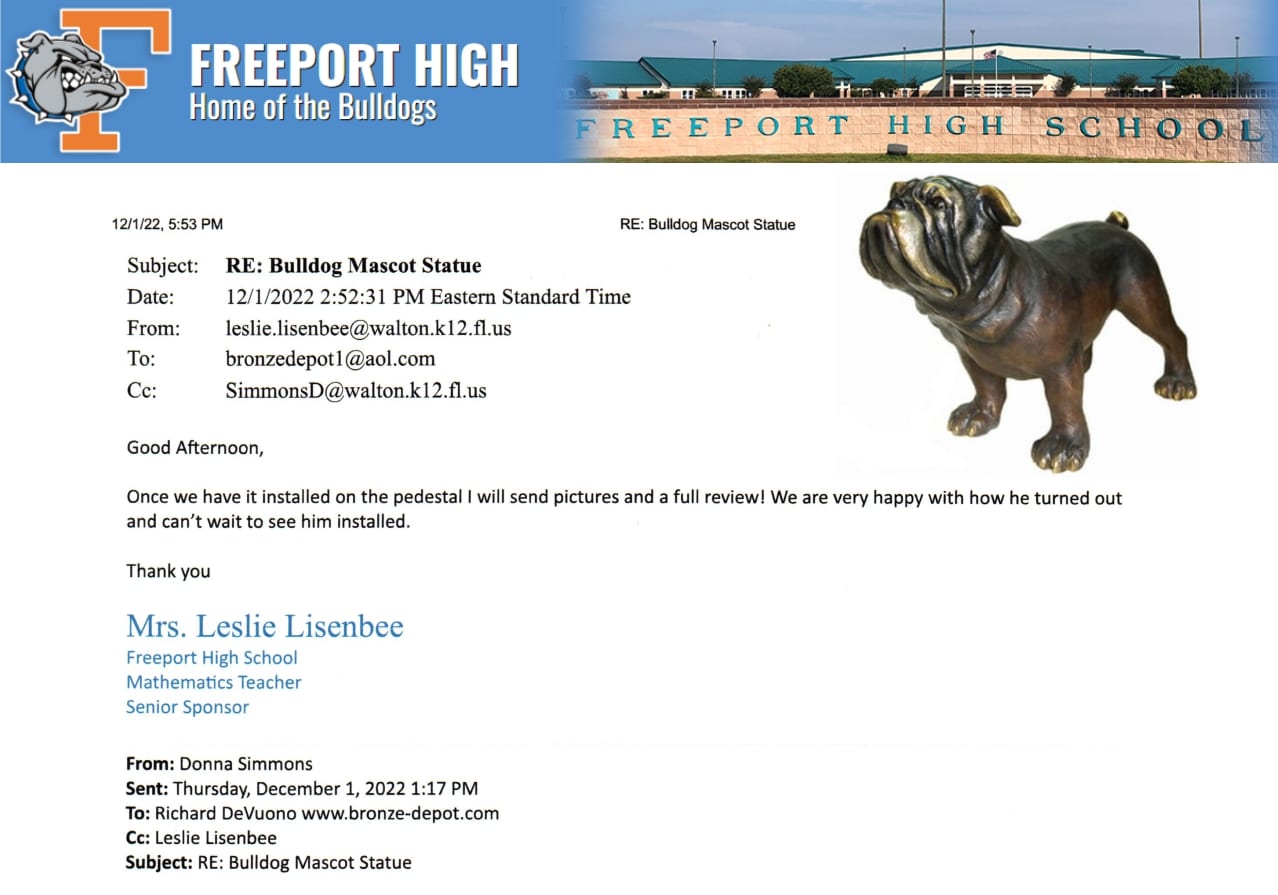 FREEPORT HIGH SCHOOL Donna Simmons, Principal, We love the looks of him, Thank you so much
Bronze Bulldog Mascot Statue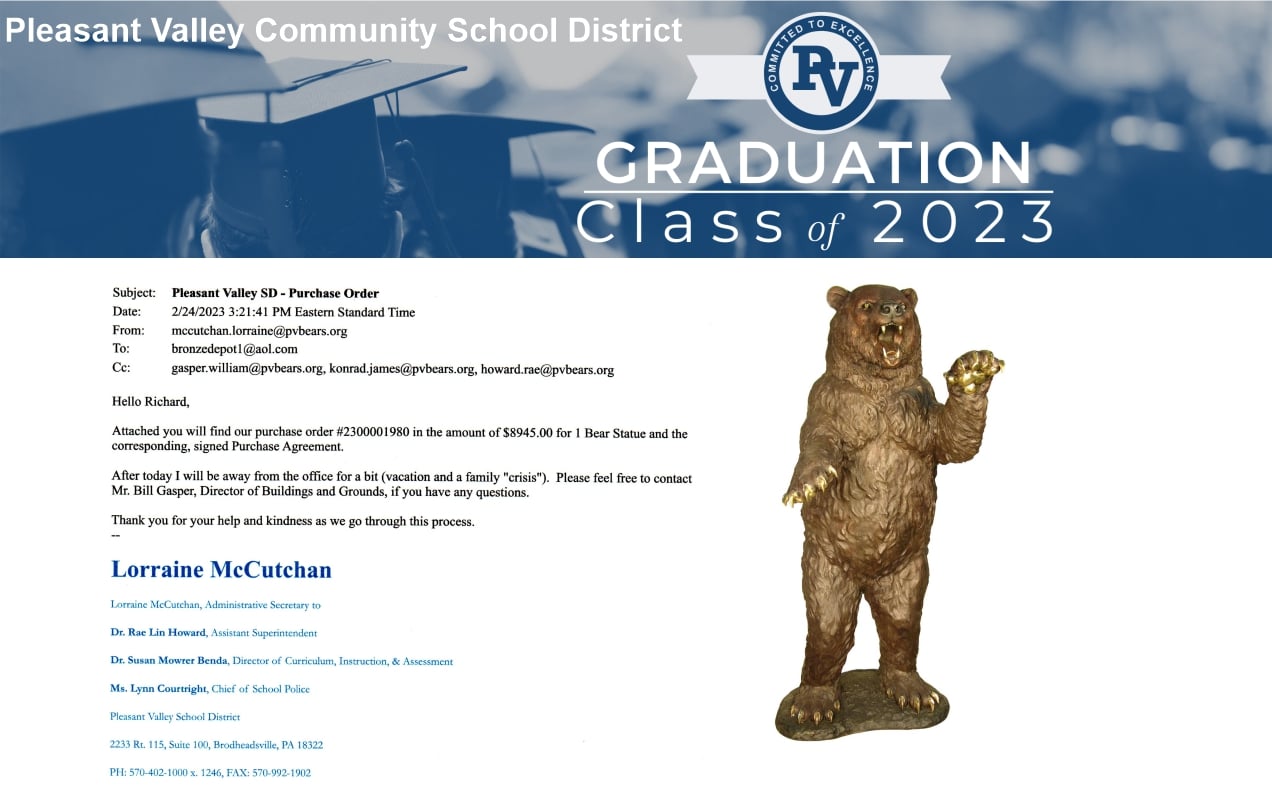 PLEASANT VALLEY HIGH SCHOOL
Bronze Bear Mascot Statue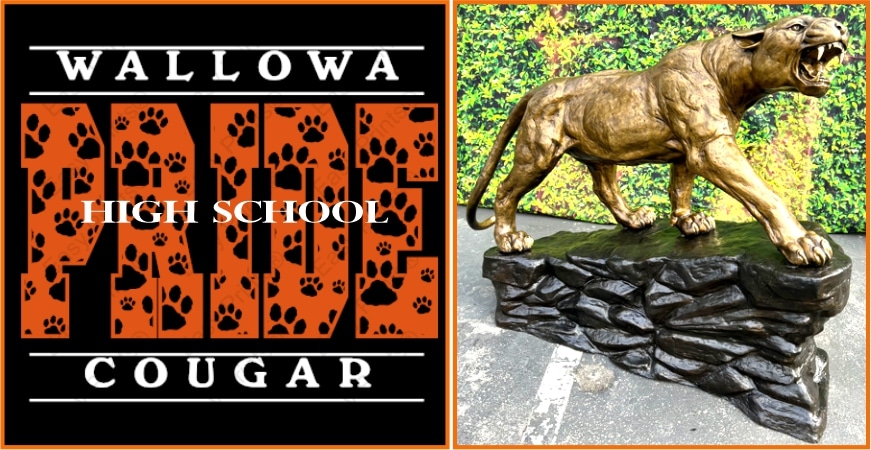 WALLOWA HIGH SCHOOL
Bronze Cougar Mascot Statue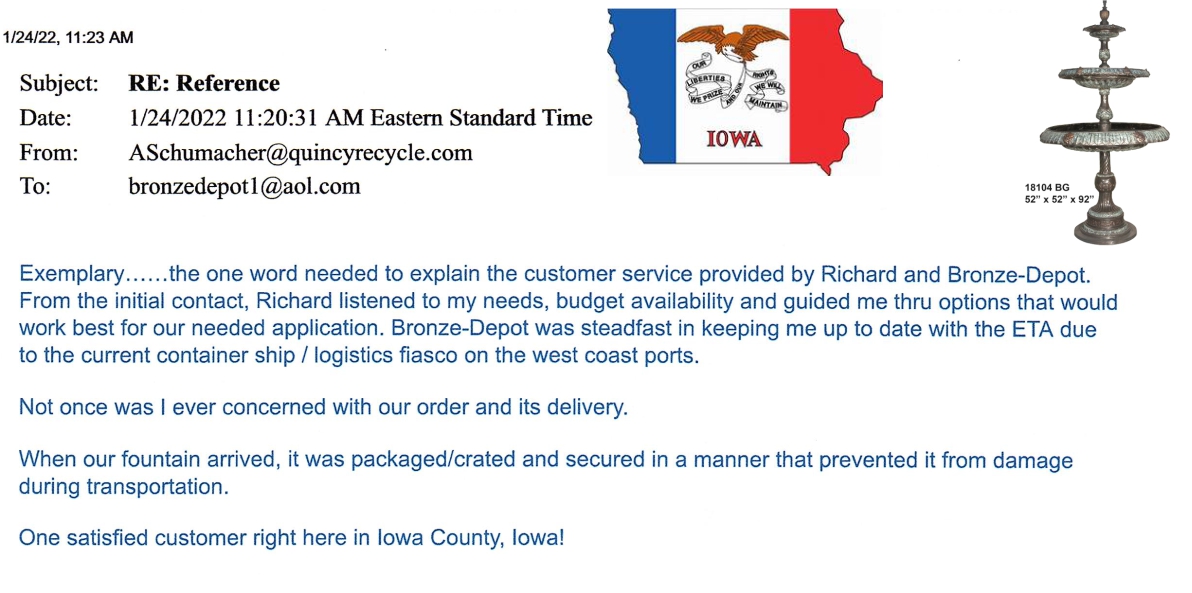 City of Marango Alan Schumacher, One satisfied customer here in Iowa County, Iowa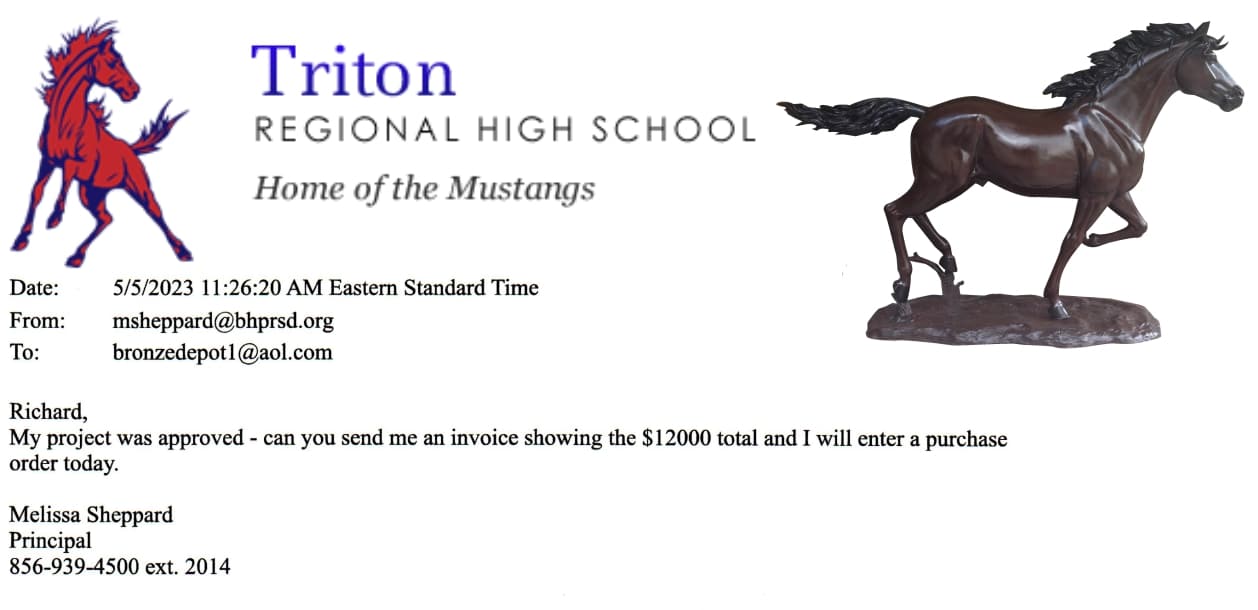 TRITON HIGH SCHOOL
Bronze Mustang Mascot Statue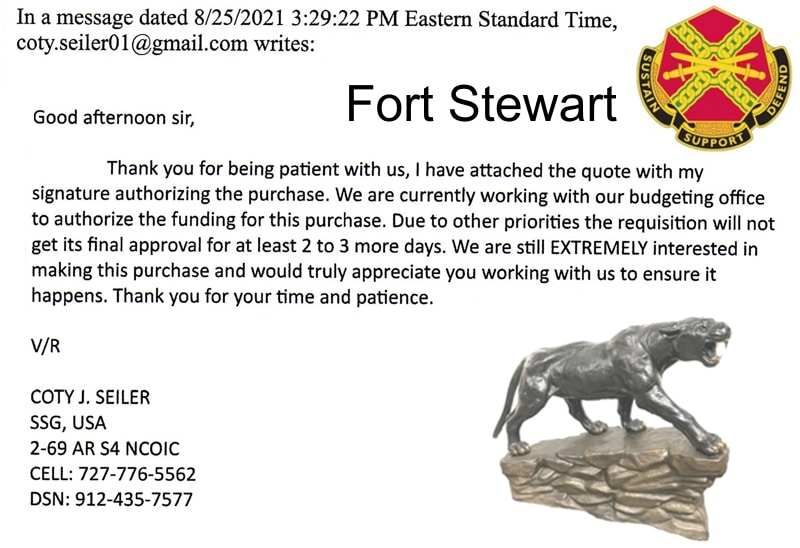 Fort Stewart Army Base Coty Seiler, SSG, USA Thank you for your time and patience.
Fort Stewart Army Base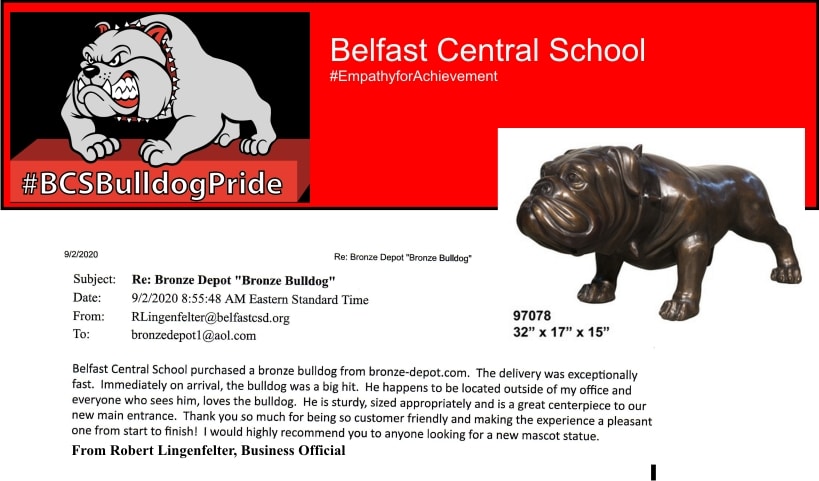 Belfast Central School Class 2020 Robert Lingenfelter, Business Officer The Bulldog was an immediate hit!
Bronze Bulldog Mascot Statue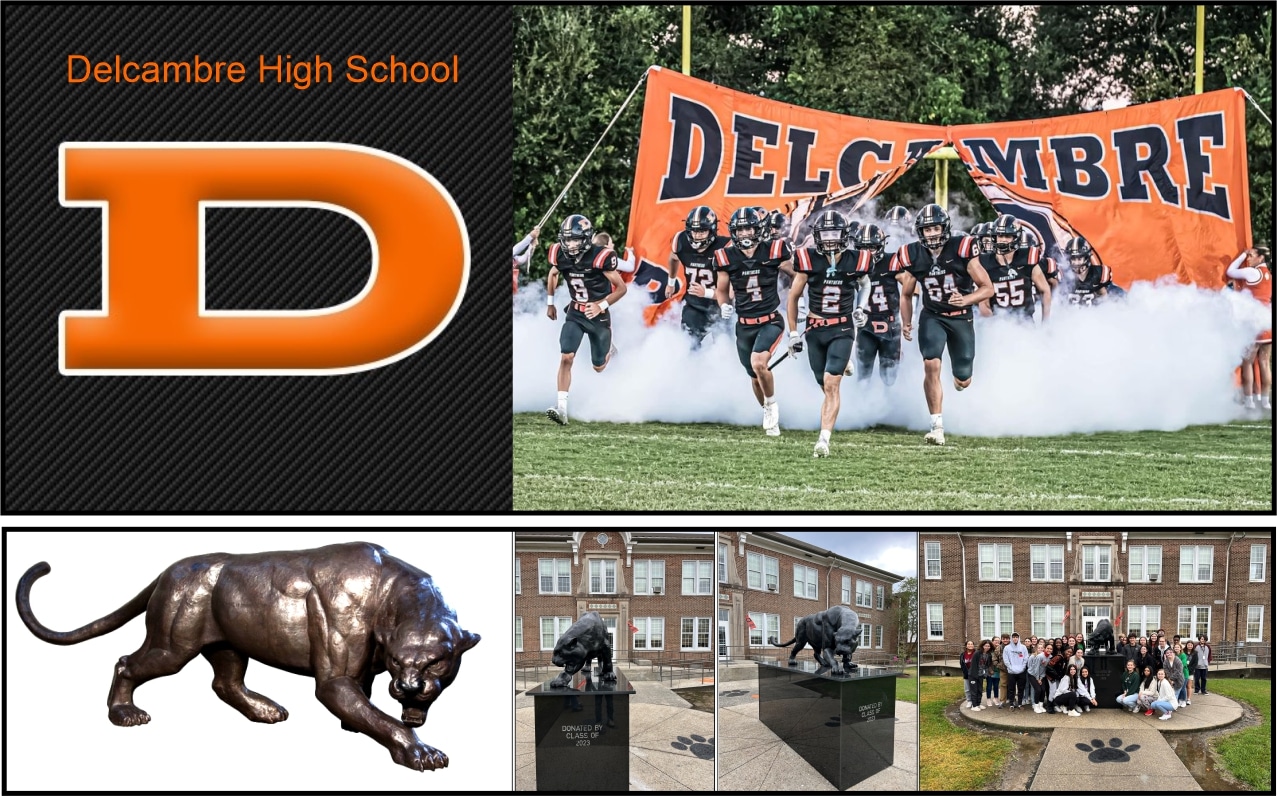 DELCAMBRE HIGH SCHOOL
Bronze Panther Mascot Statue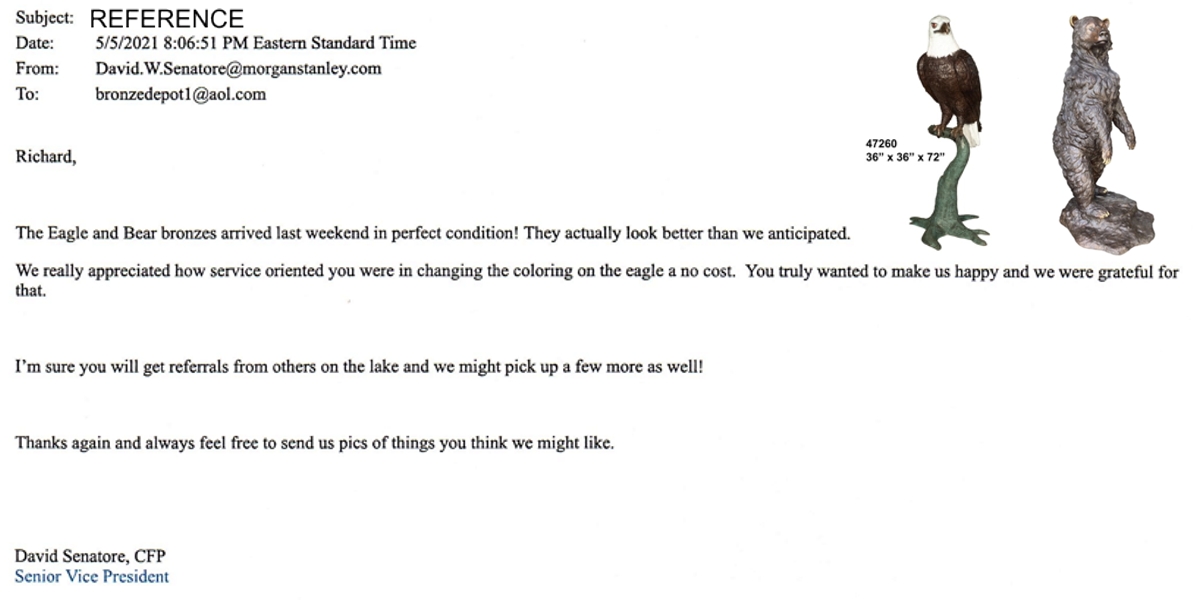 Better than we anticipated
Bronze Eagle & Bear Statues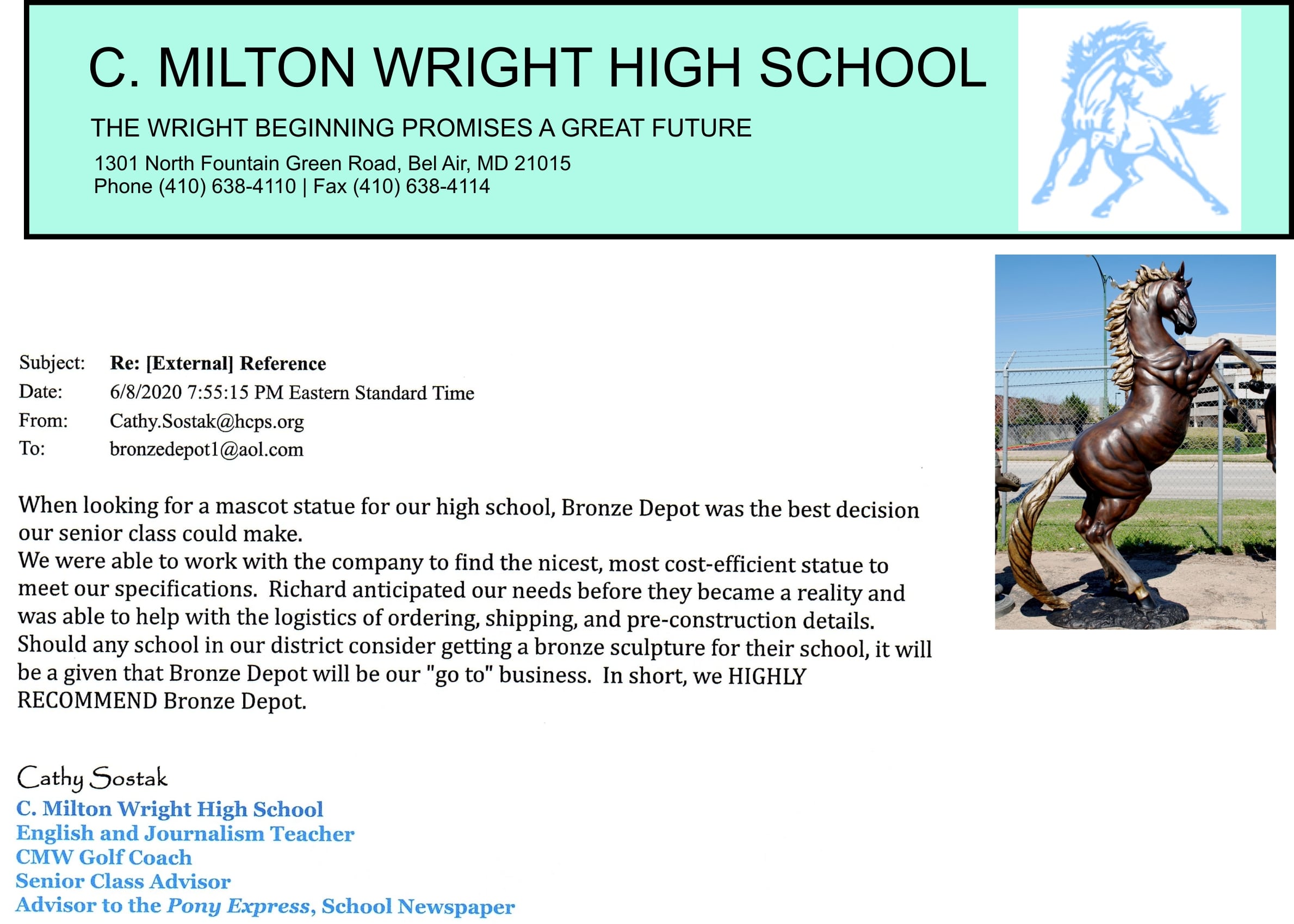 C. Milton High School Cathy Sostak, Senior Class Advisor. We highly recommend Bronze-Depot.com
Bronze Horse Mascot Statue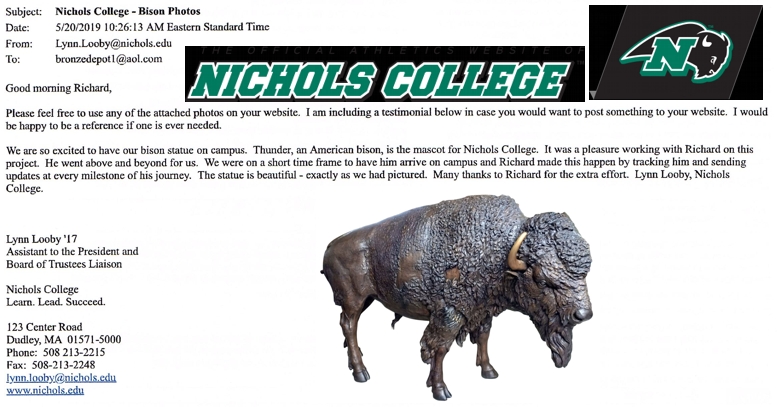 Nicholas College Lynn Looby, Asst. to Principal. Richard went beyond the call of duty.
Bronze Bison Mascot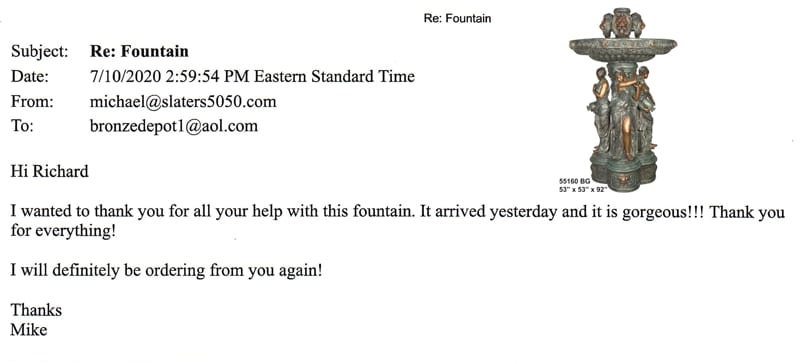 The Fountain is Gorgeous!!! Michael Nakhleh, Pres. Elite Restaurant Group. I will definitely order from you again.
Bronze Four Ladies with Urns Fountain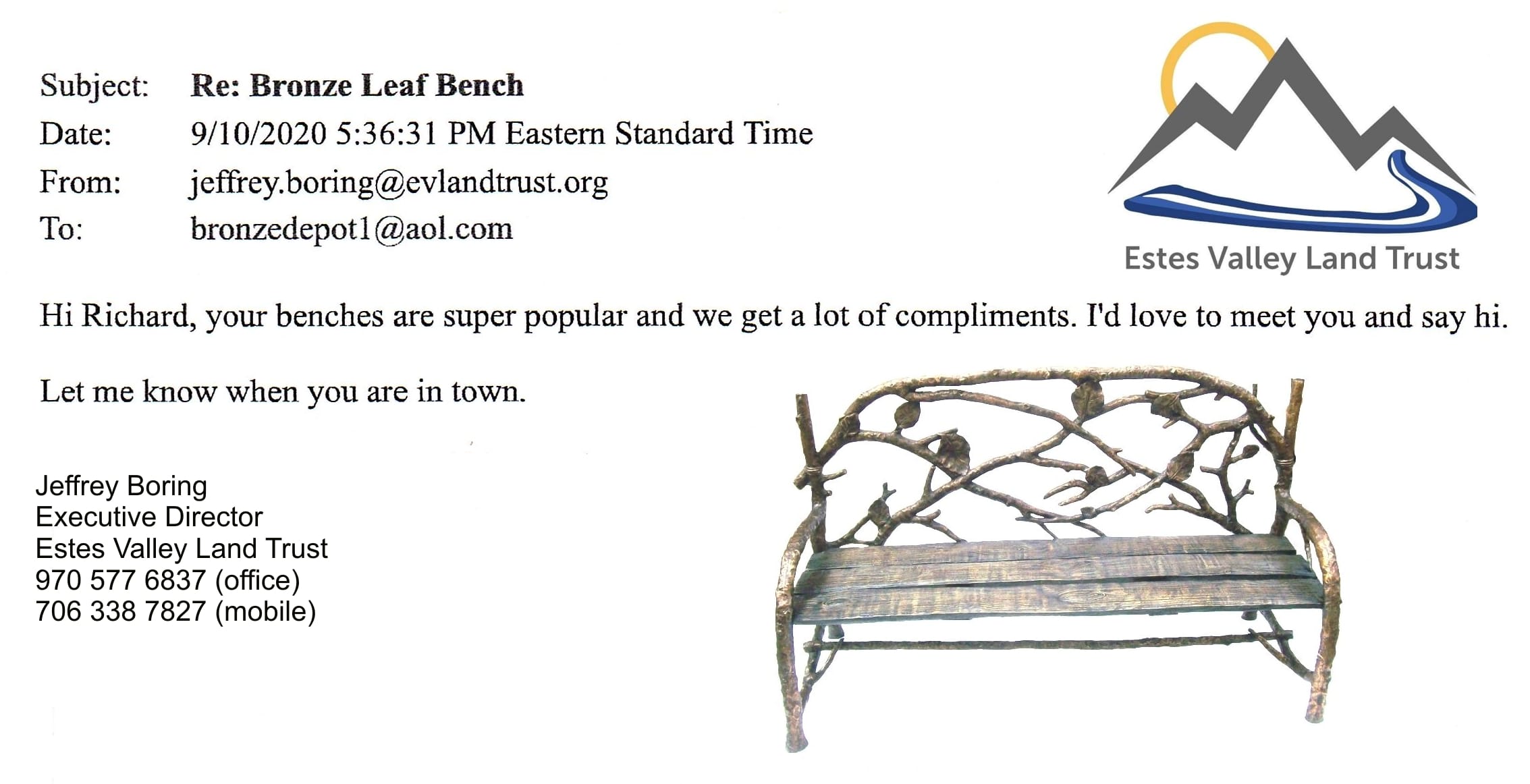 Estes Park Land Trust Jeffrey Boring, Exec. Dir. We get a lot of compliments on your leaf benches.
Bronze Leaf Bench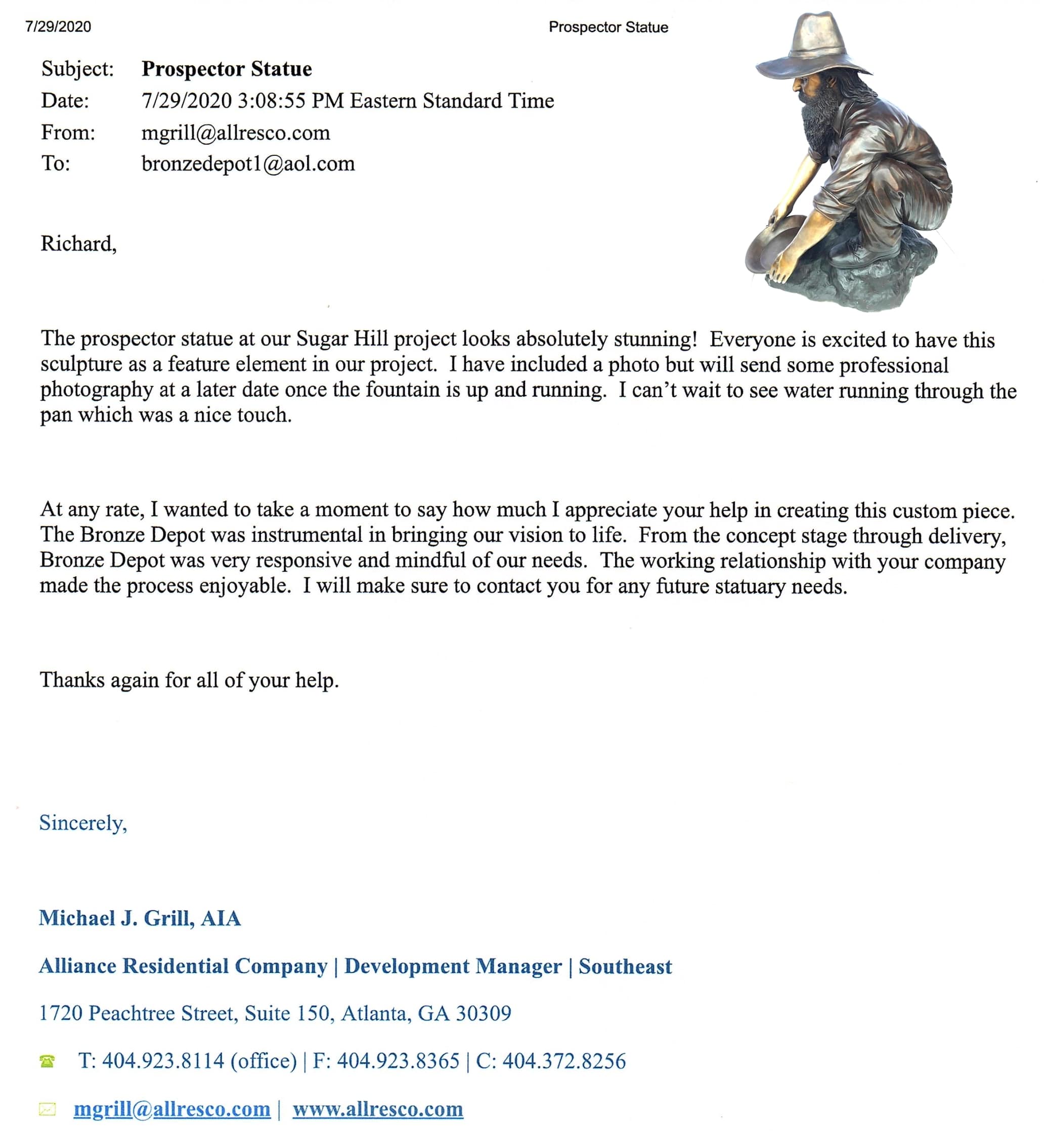 Alliance Residential Company Michael Grill, AIA. Bronze-depot.com brought our vision to life.
Bronze Custom made Prospector Statue Fountain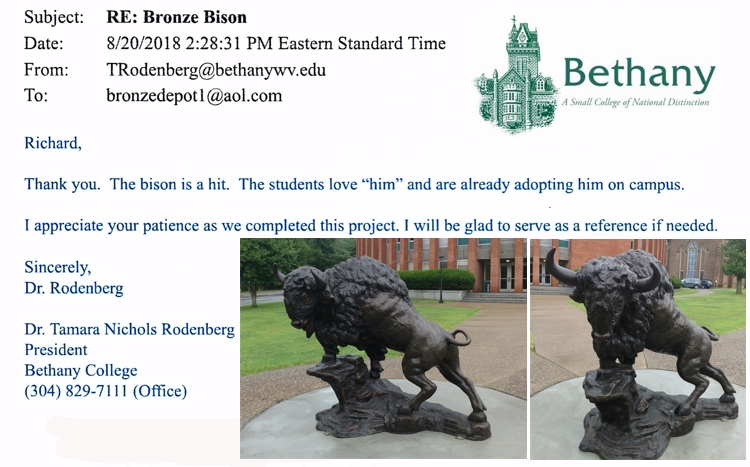 Bethany College Dr. Tamara Rodenberg, President. The students love him and already adopted him on campus.
Bronze Bison Mascot Statue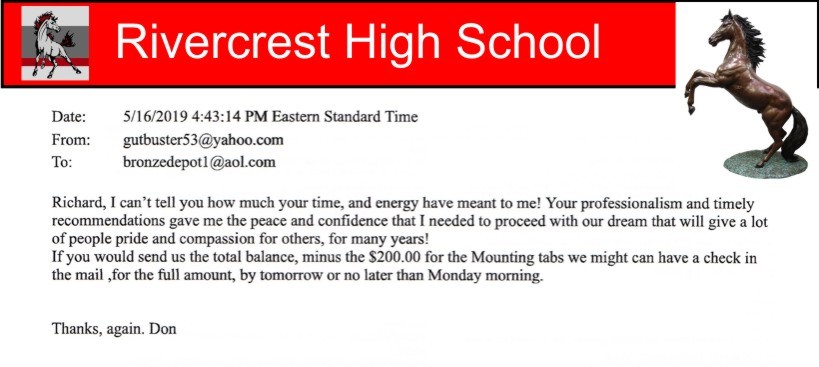 Rivercrest High School Don Slaton, I can't tell you how much your time and energy meant to me.
Bronze Rearing Horse Mascot Statue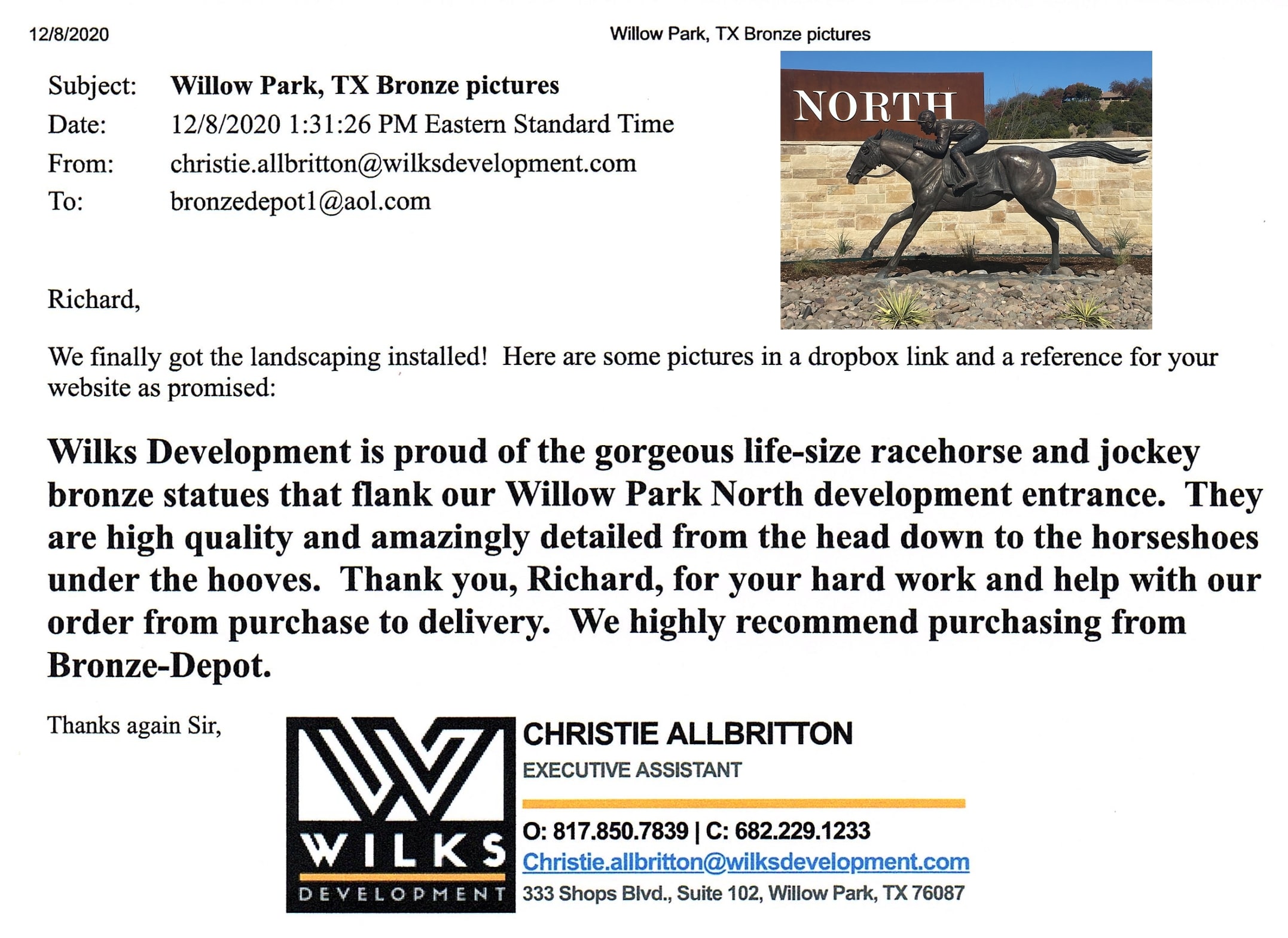 Wilks Development Christie Allbritton, Exec. Assistant
We highly recommend www.bronze-depot.com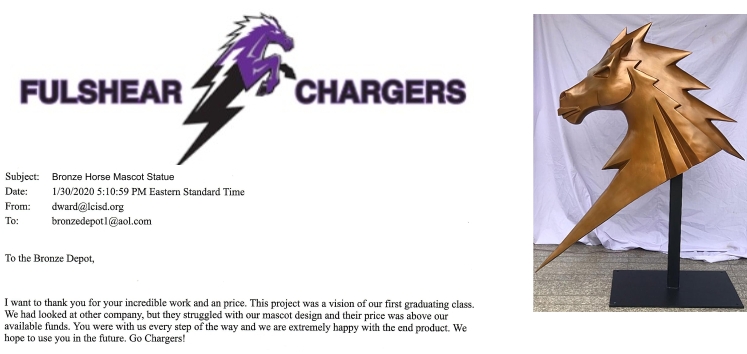 Fulshear High School Don Ward, Principal. You were with us every step of the way. Incredible work & price.
Bronze Customized Horse Head Mascot Statue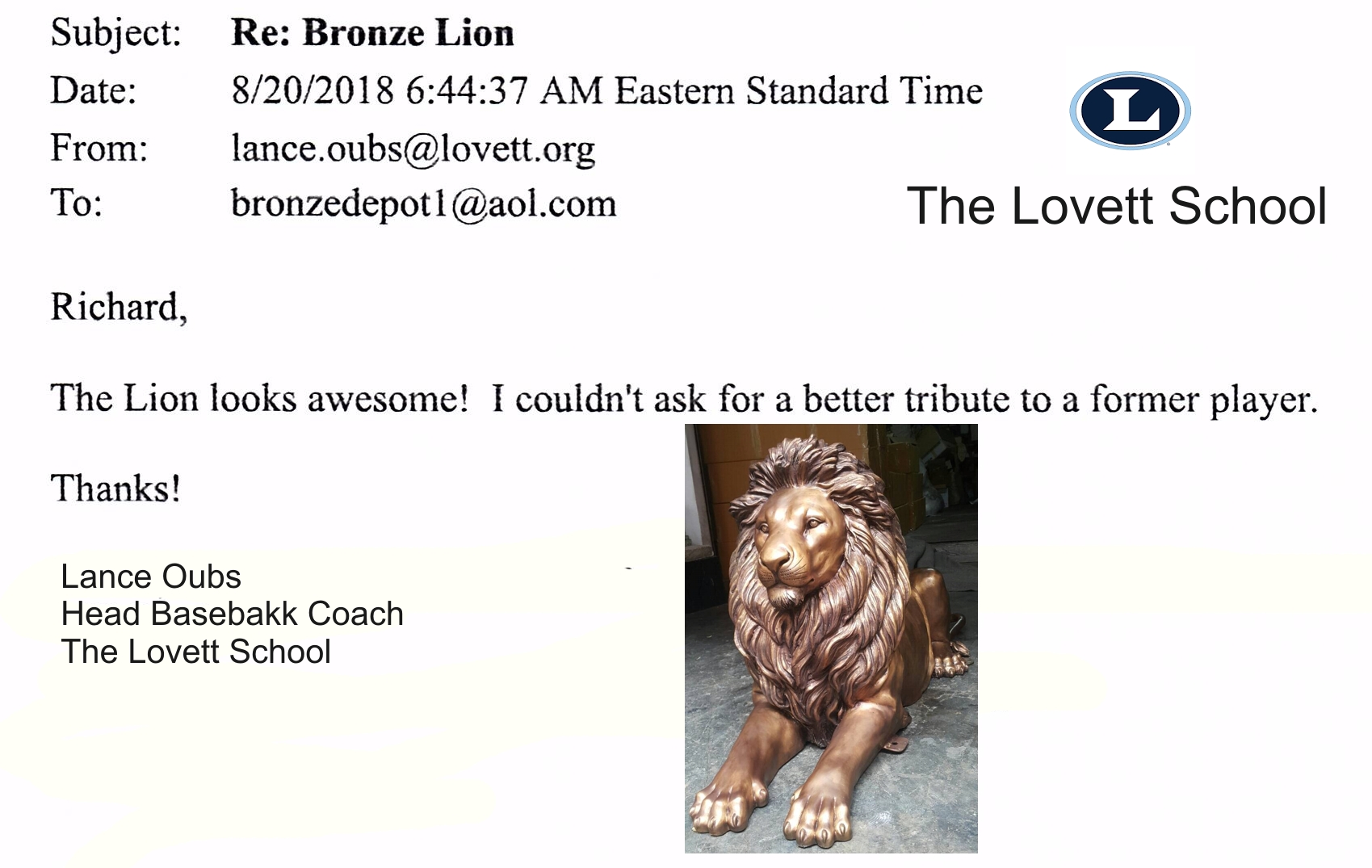 The Lovett School Lance Oubs, Head Coach. The Lion looks awesome couldn't ask for a better tribute to a player.
Bronze Lion Mascot Statue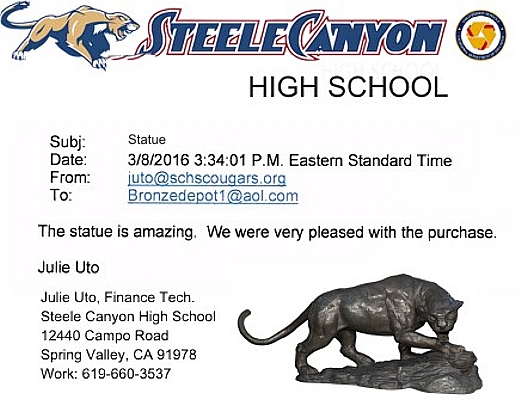 SteelCanon High School Julie Uto, Finance Tech. The statue is amazing. We were very pleased with our purchase
Bronze Panther Mascot Statue

We Love our Bulldog Josh Meyer. Highest marks across the board for you and your products.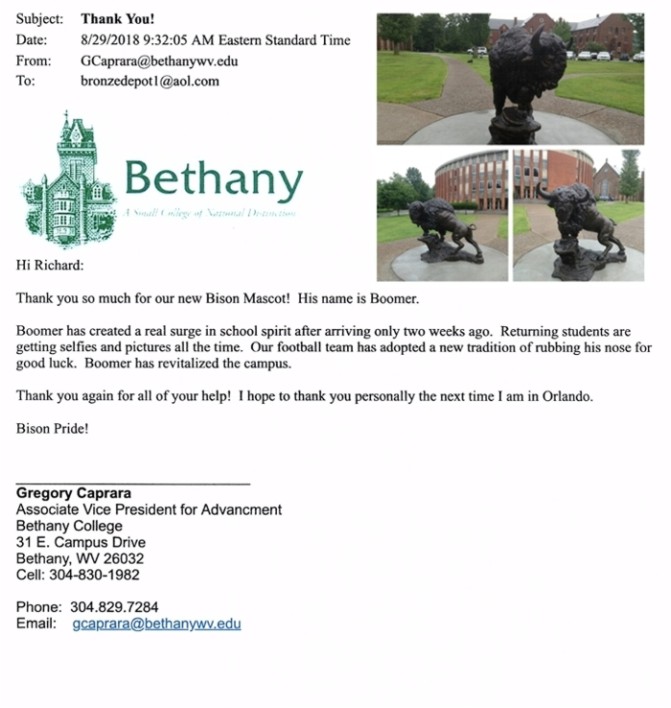 Bethany College Gregory Capara, V.P. Students are taking selfies next to him. Boomer has revitalized the campus.
Bronze Bison Mascot Statue

Beautiful with Excellent Detail R. Chipp Packaging and shipping excellent. I highly recommend your company!
Bronze Religious Statues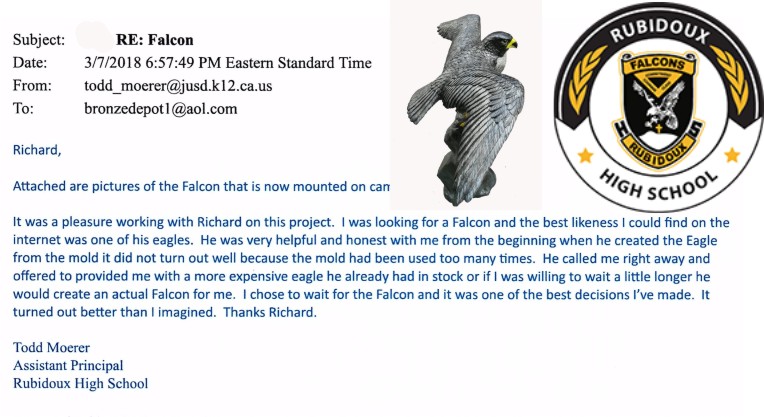 Rubidoux High School Todd Moerer, Asst. Principal, Best decision I made. Turned out better than I imagined.
Bronze Falcon Mascot Statue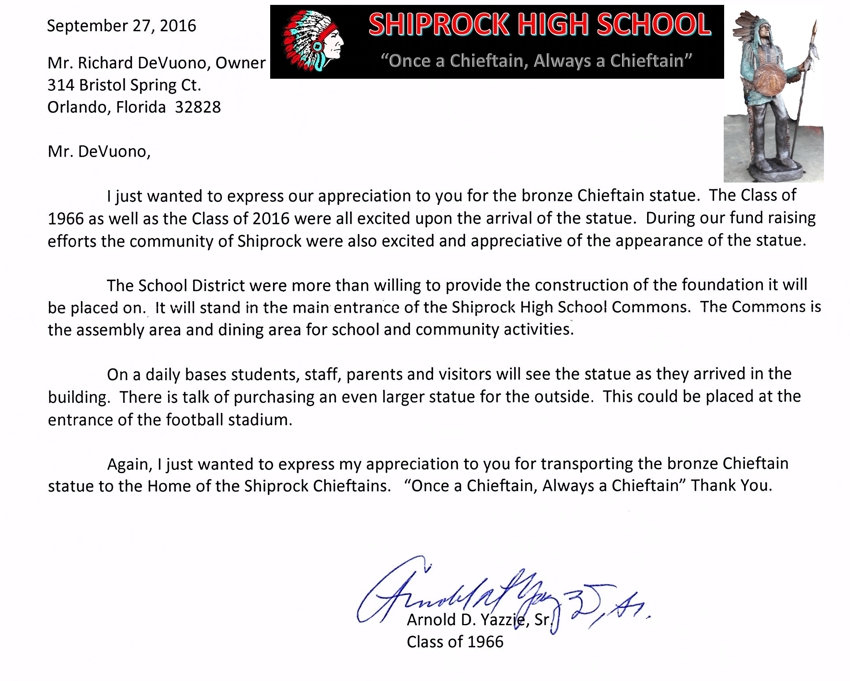 SHIPROCK HIGH SCHOOL Arnold Yazz Sr. I want to express my appreciation to you for the Chieftain Mascot.
BRONZE INDIAN CHIEF WARRIOR STATUE MASCOT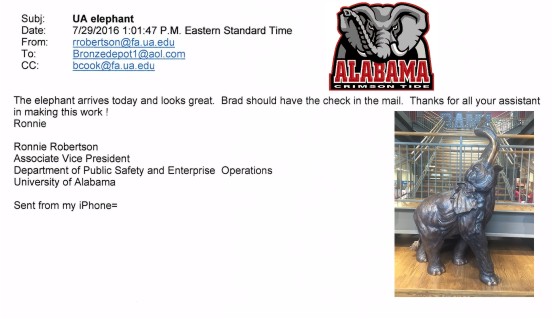 University of Alabama Ronnie Robertson, V.P. The elephant looks great. Thanks for making this work!
Bronze Elephant Mascot Statue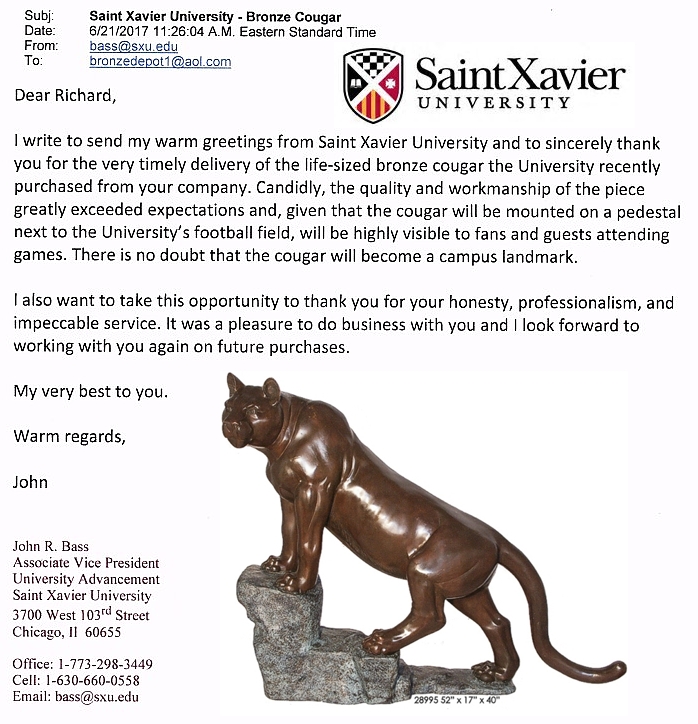 Saint Xavier University John Bass, V.P. The quality and workmanship exceeded my expectations.
Bronze Pumas Mascot Statue
I gave you a reference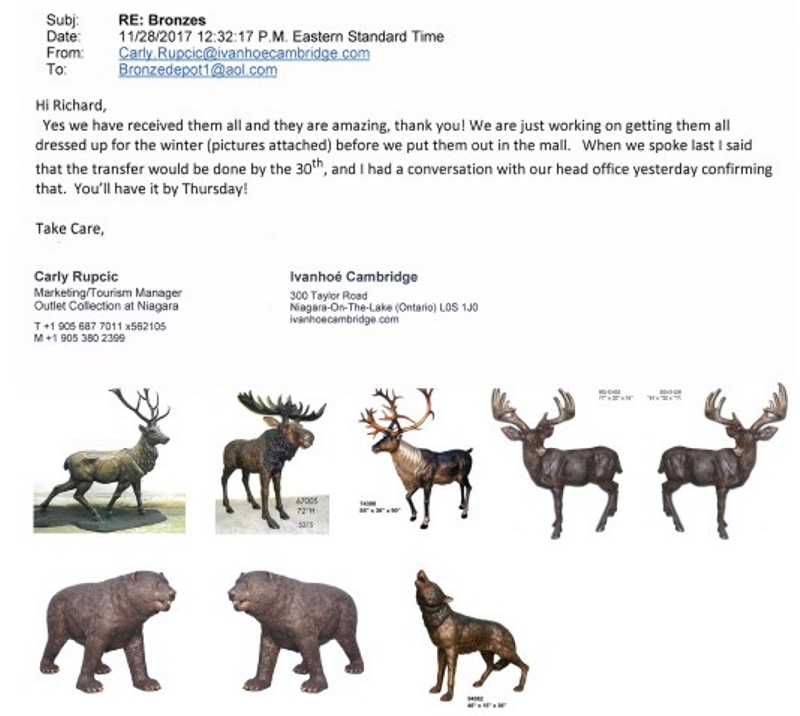 They are amazing

Grant High School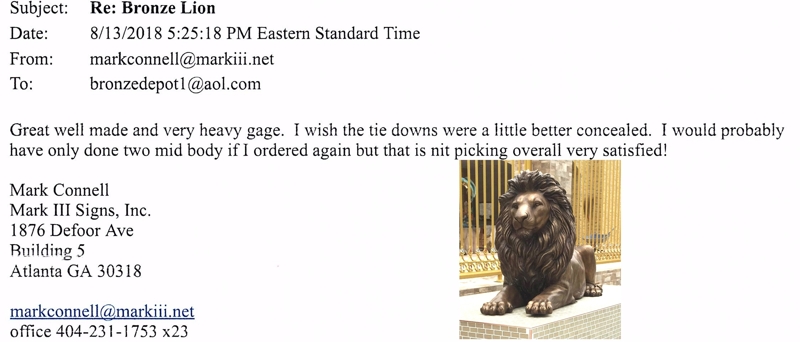 Well made, heavy gauge, very satisfied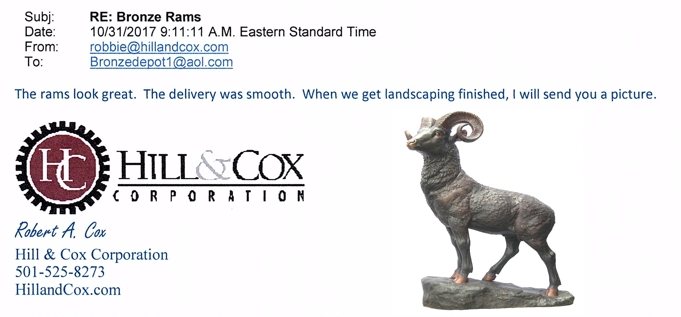 The Rams Look Great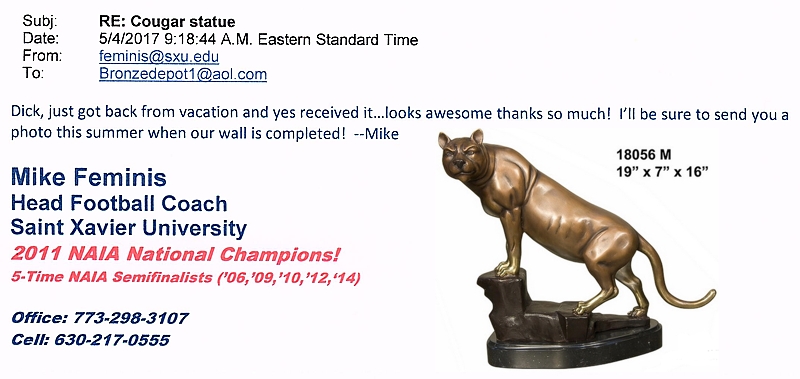 It's Awesome!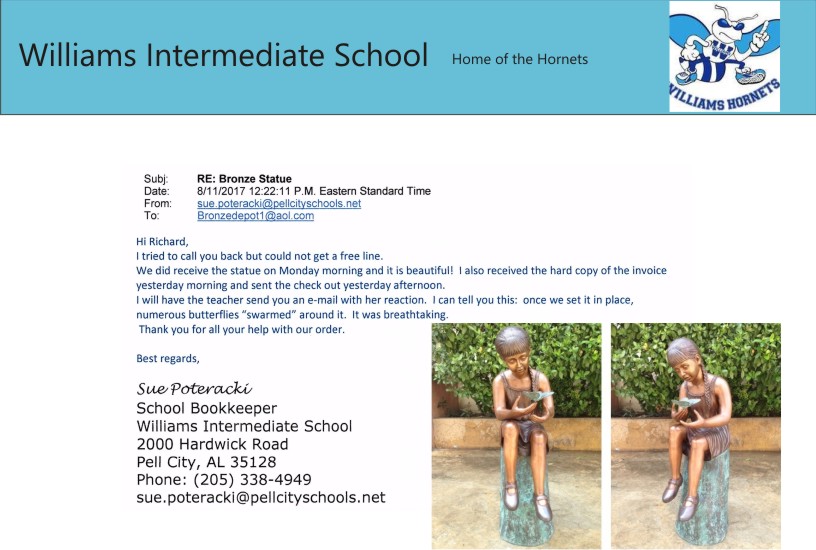 It was Breathtaking

Highly Recommend You!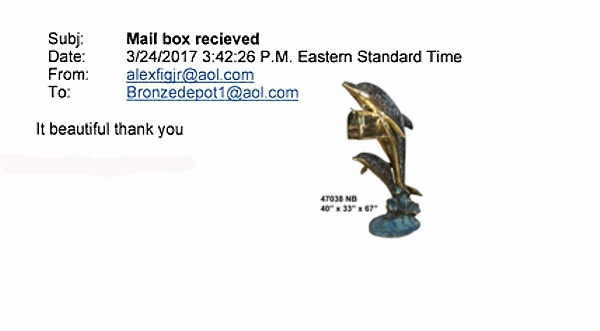 It's Beautiful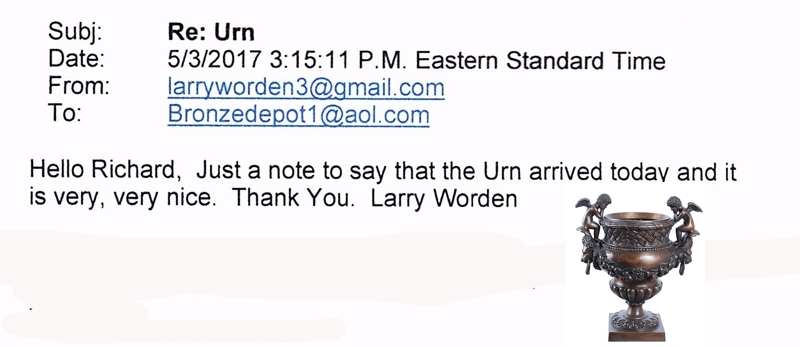 It's very, very nice.

Looks Great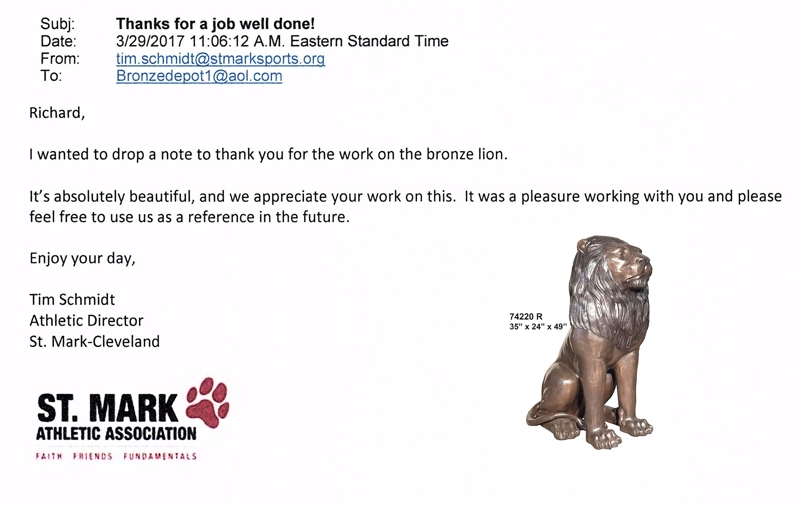 It's Absolutely Beautiful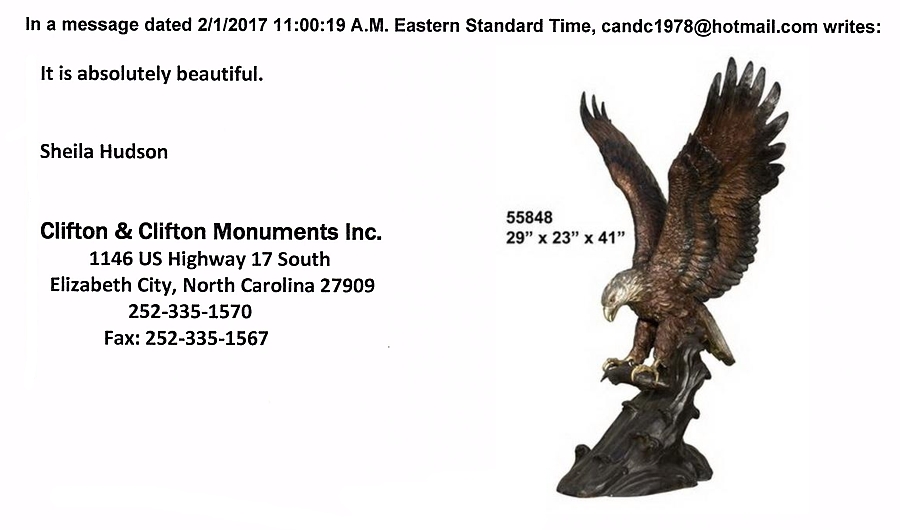 Absolutely Beautiful

Thanks for your integrity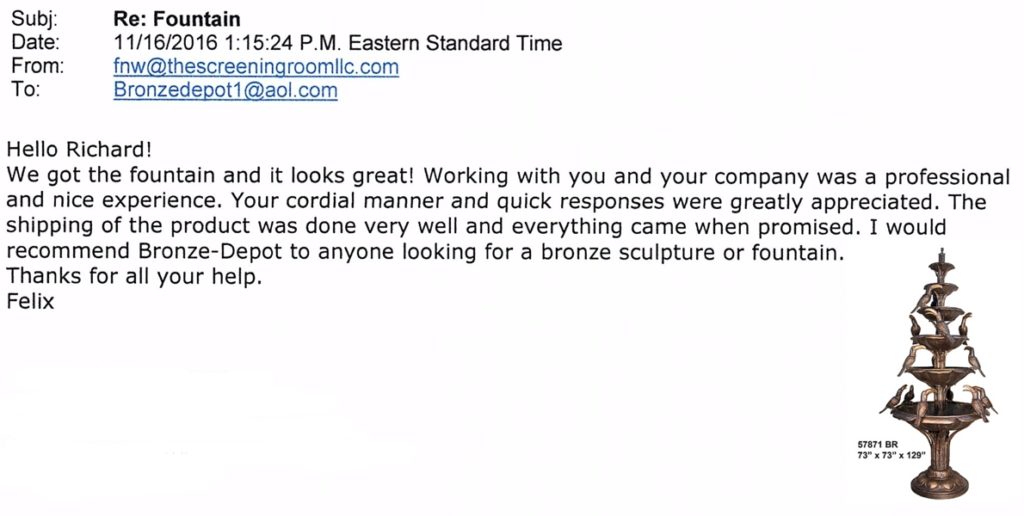 Professional & Nice Experience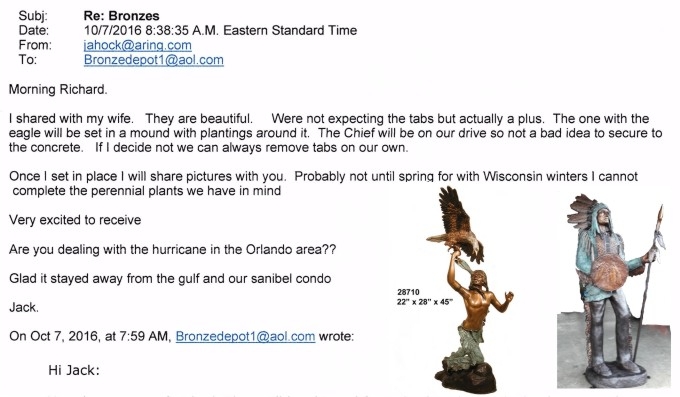 They are beautiful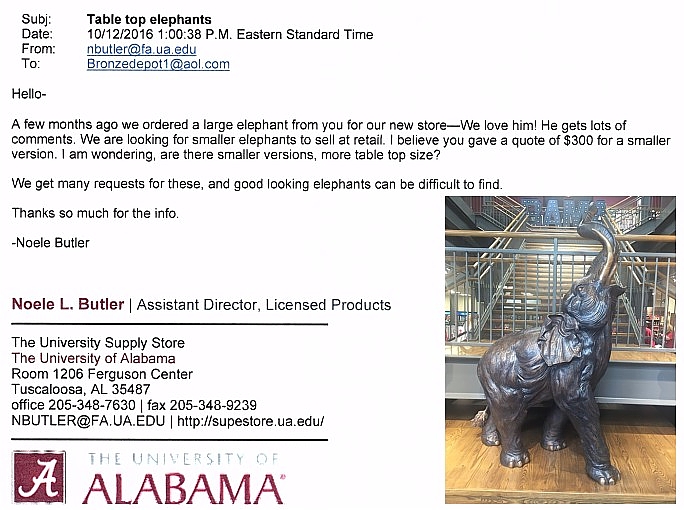 We Love Him

I Give You 5 Stars

Thank you for Excellent Service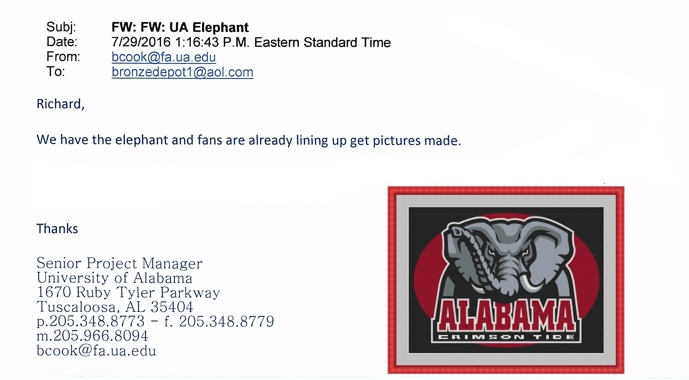 University of Alabama

Sending You a New Customer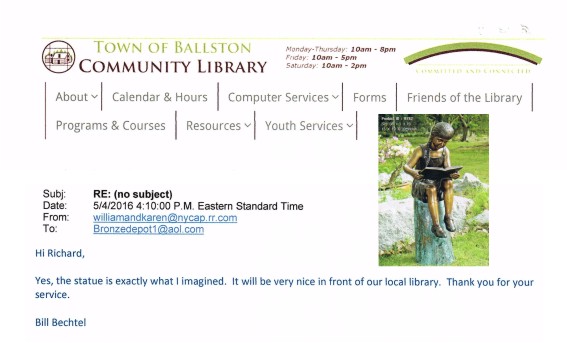 Ballston Library

It Looks Adorable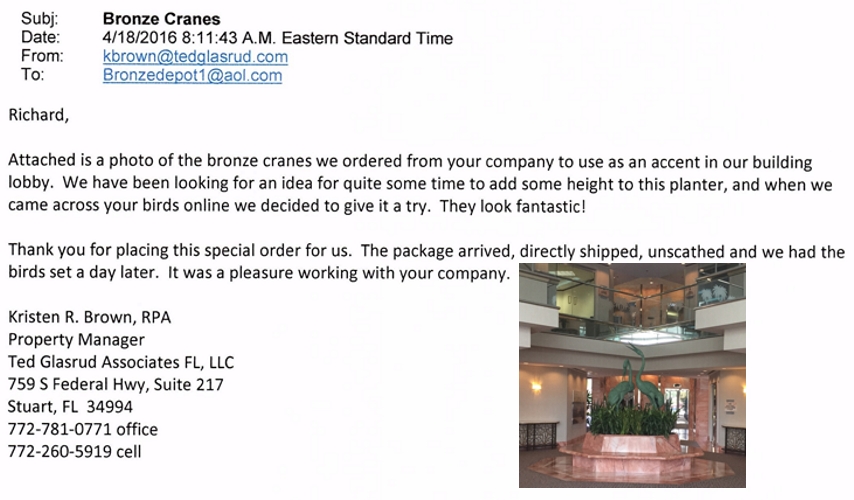 They Look Fantastic!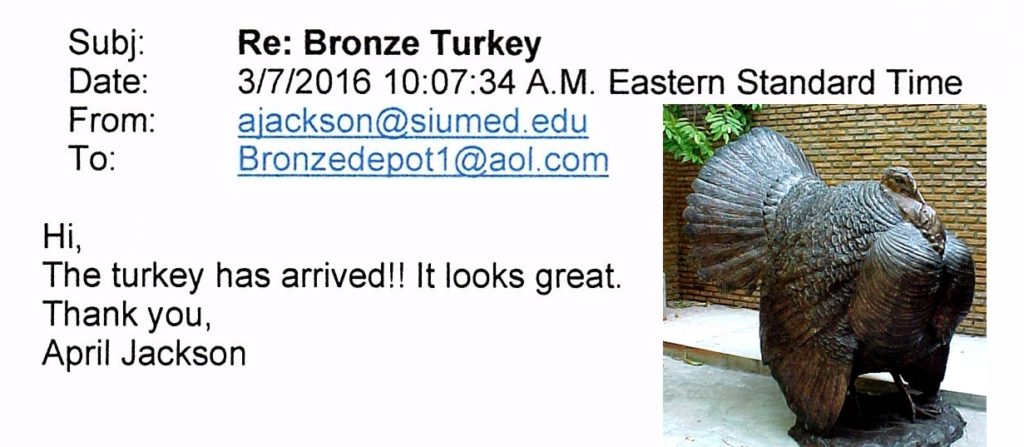 It Looks Great!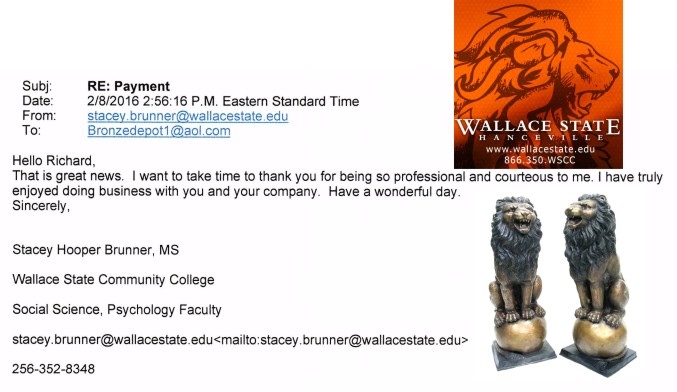 Professional & Courteous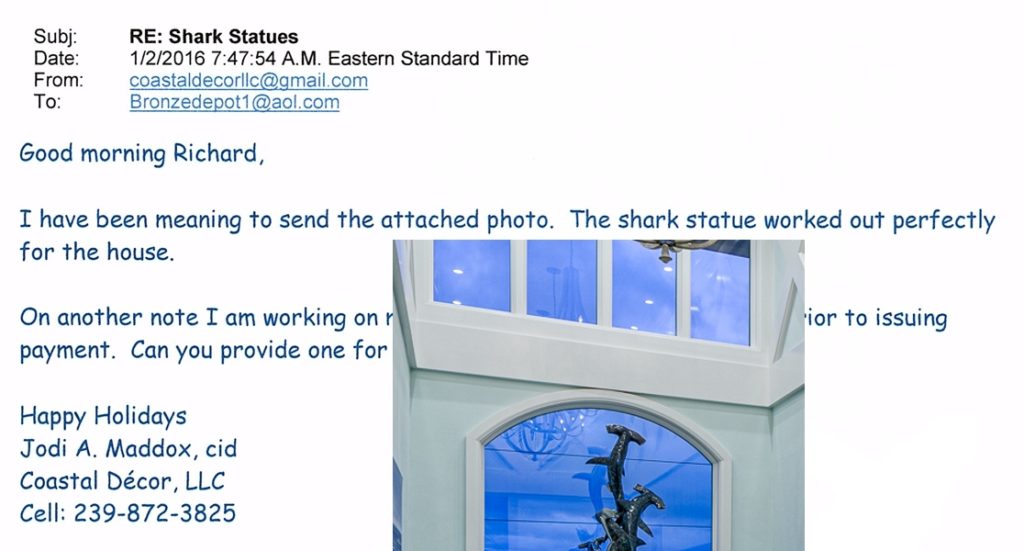 The shark statue worked out great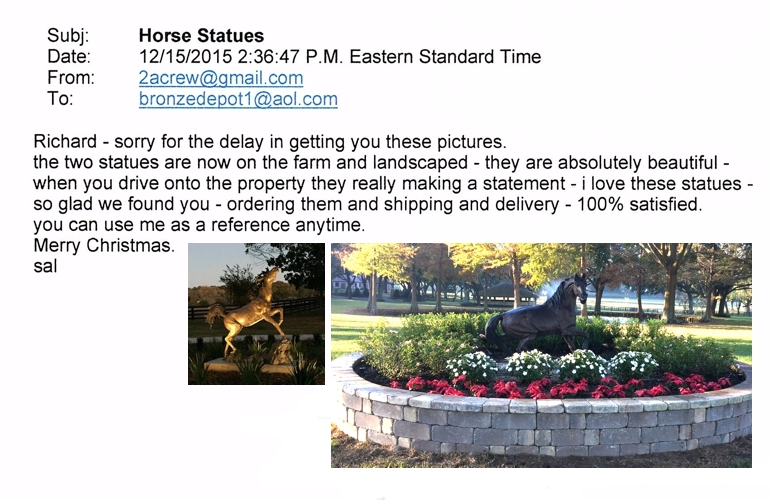 I love these statues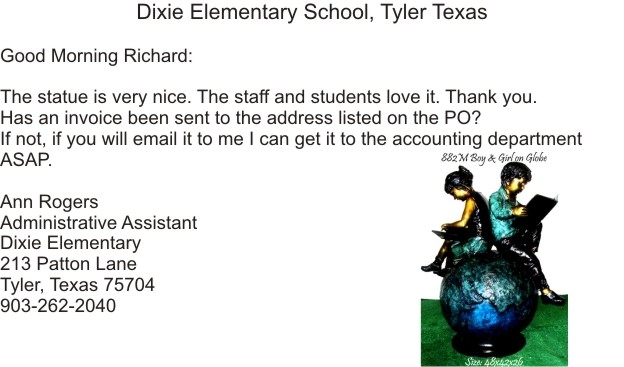 Dixie Elementary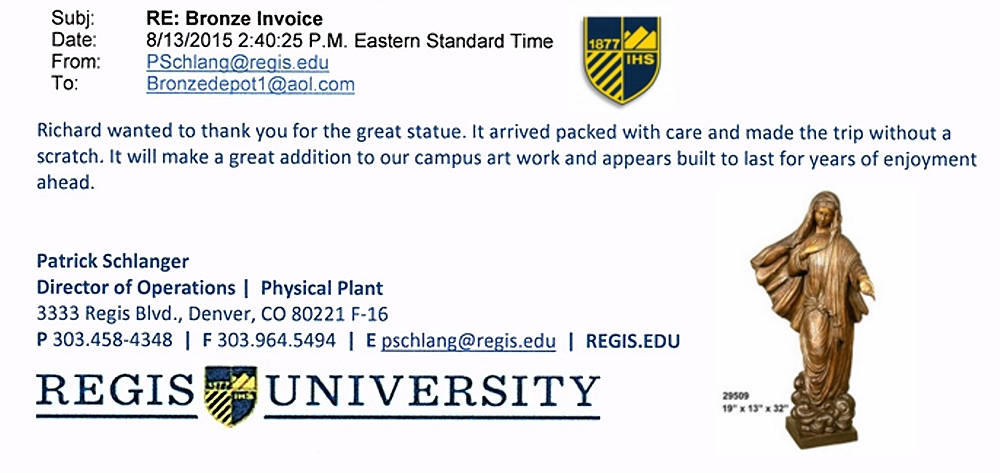 Regis University

All Saints Academy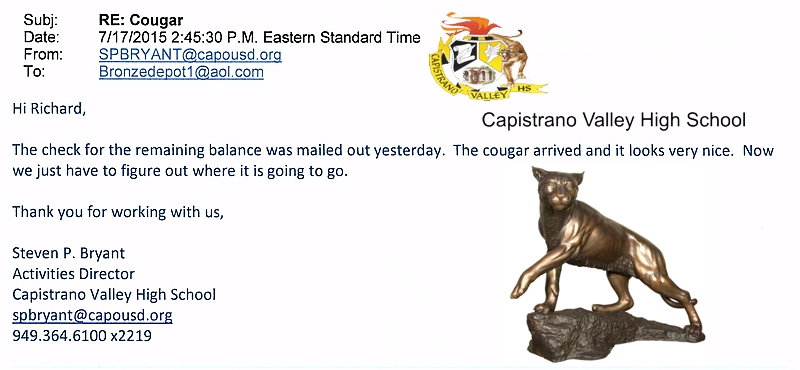 Capistrano Valley High School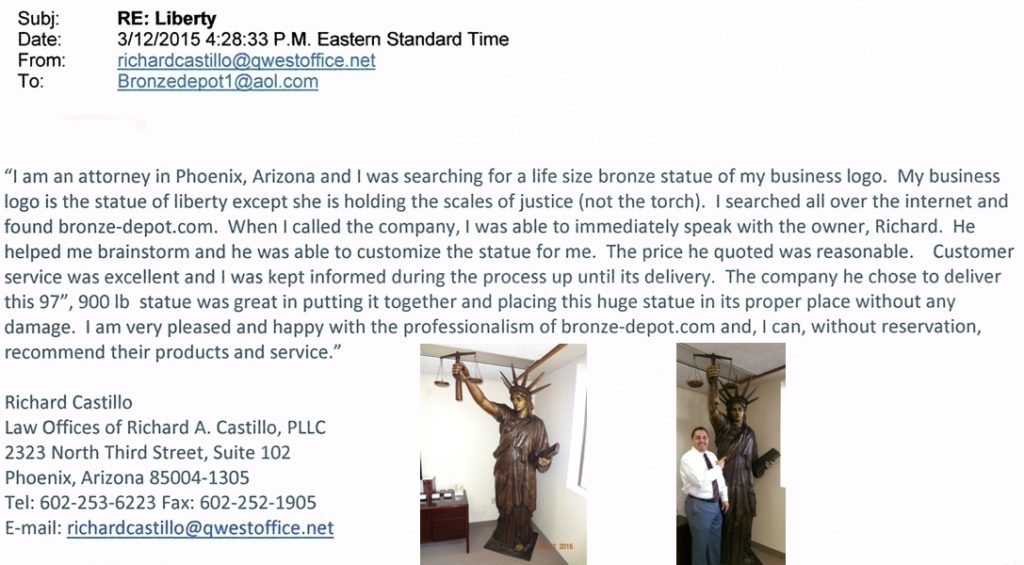 I am very pleased and happy.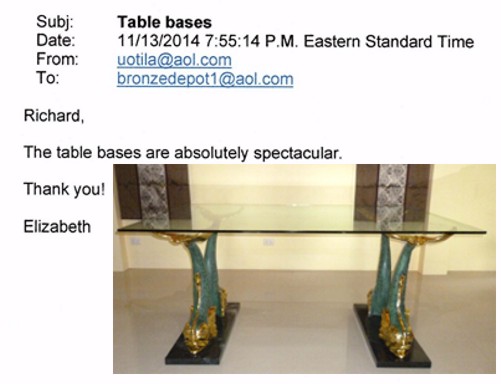 Absolutely Spectacular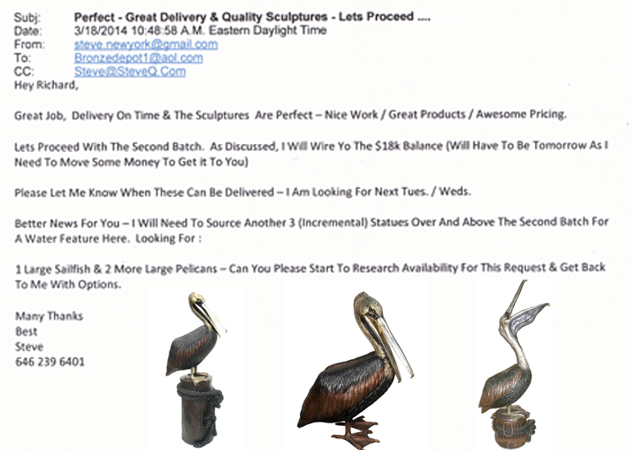 The Sculptures are Perfect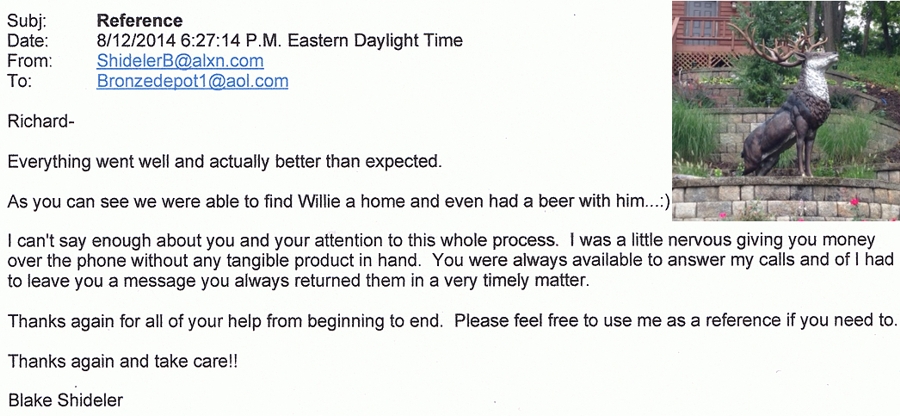 Always there to answer my calls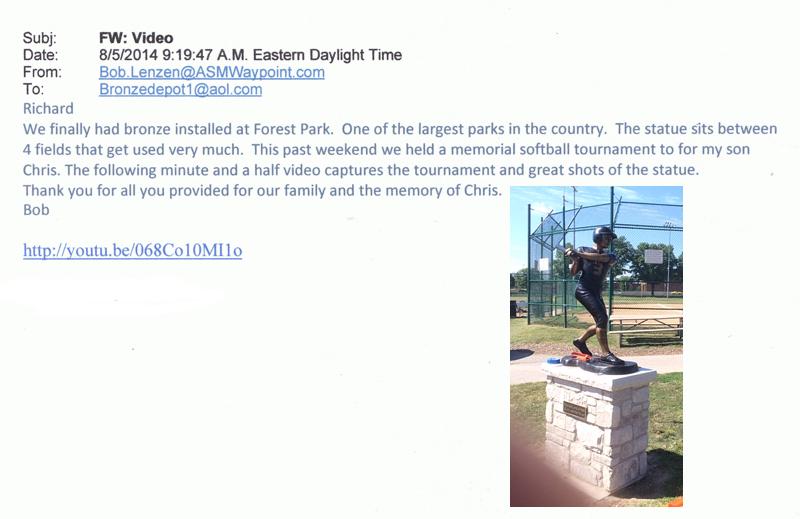 Thank you for all you provided

Walnut Community School District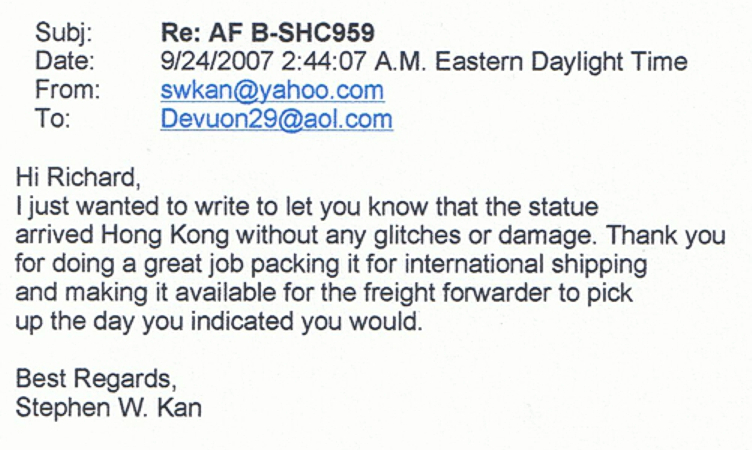 Overseas Shipment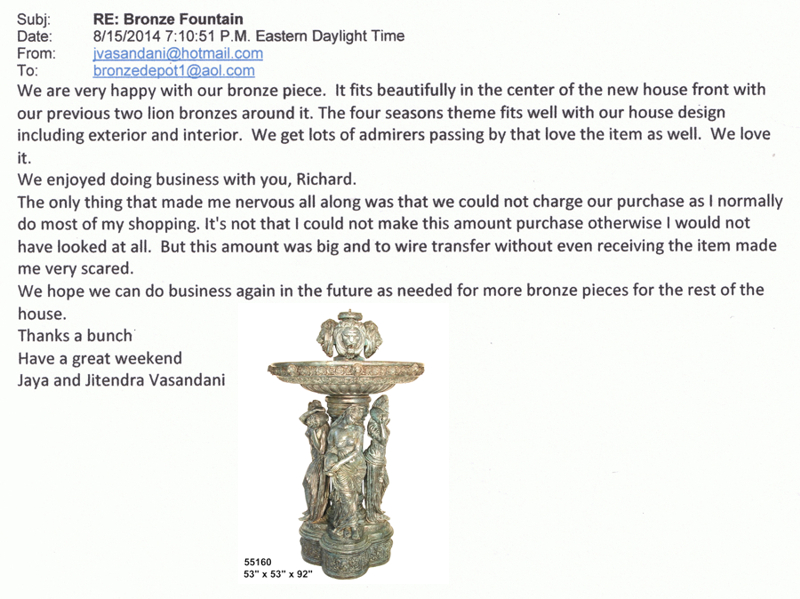 We love it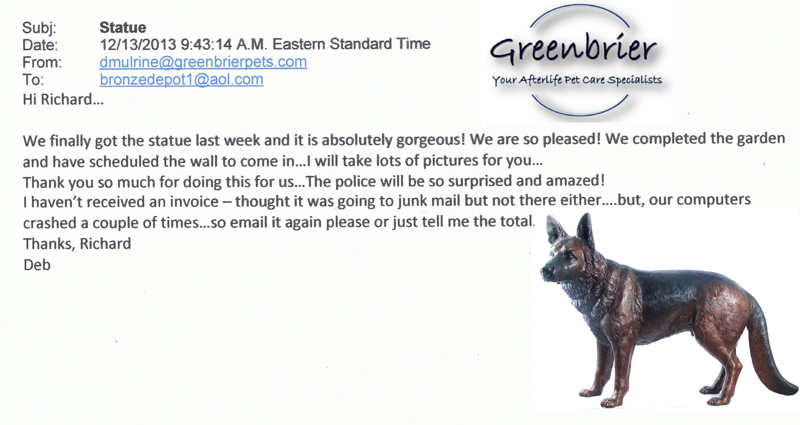 We are so pleased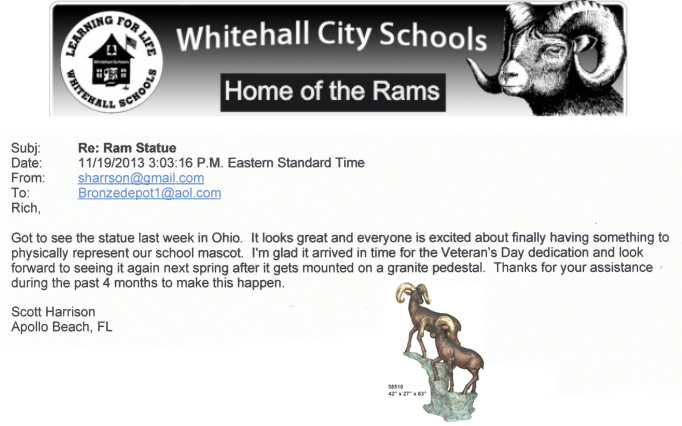 Whitehall High School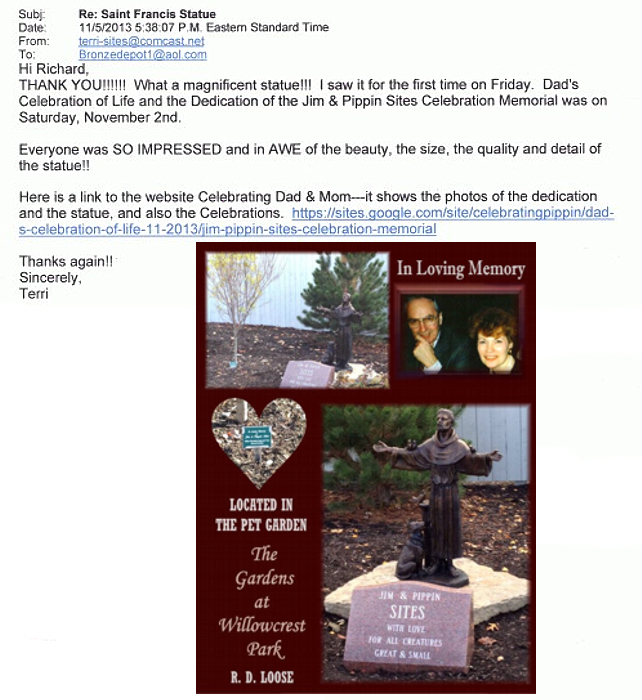 What a Magnificent Statue!!!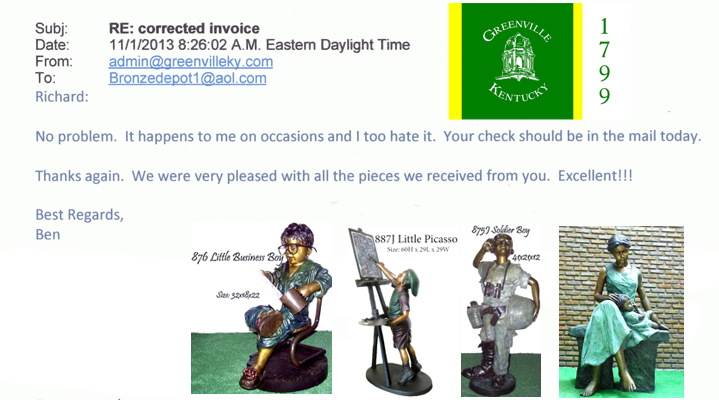 City of Greenville, KY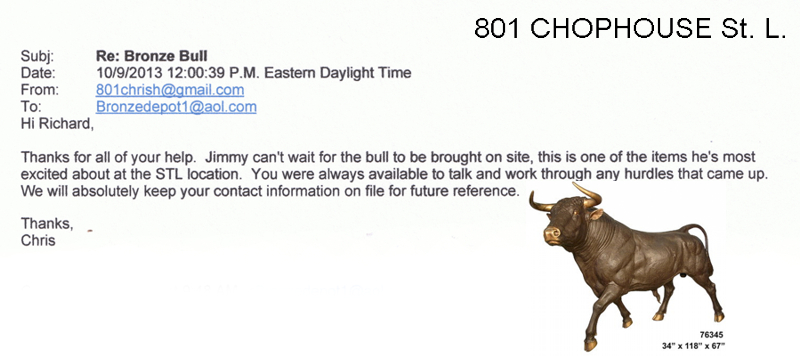 801 CHOPHOUSE St. Louis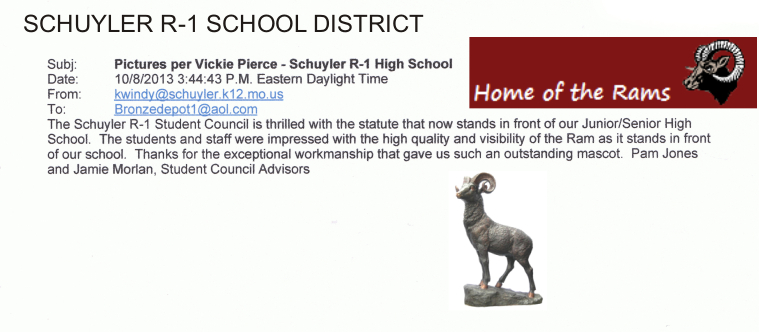 SCHUYLLER R-1 HIGH SCHOOL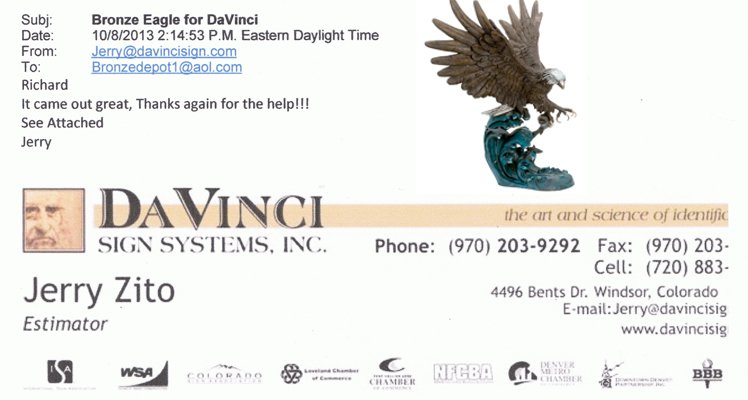 It came out great

El Capitan High School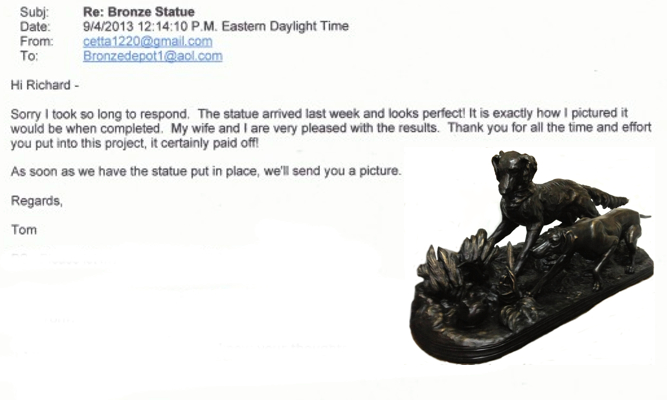 We are very pleased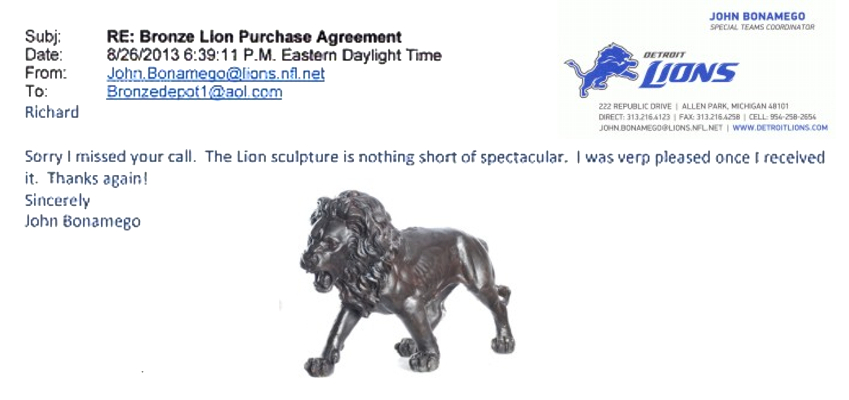 Nothing Short of Spectacular

Very Nice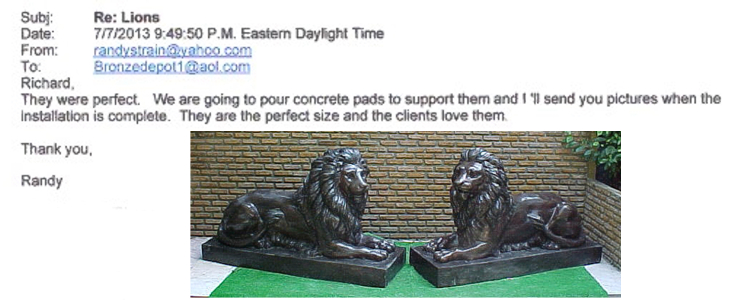 Clients Love the Lions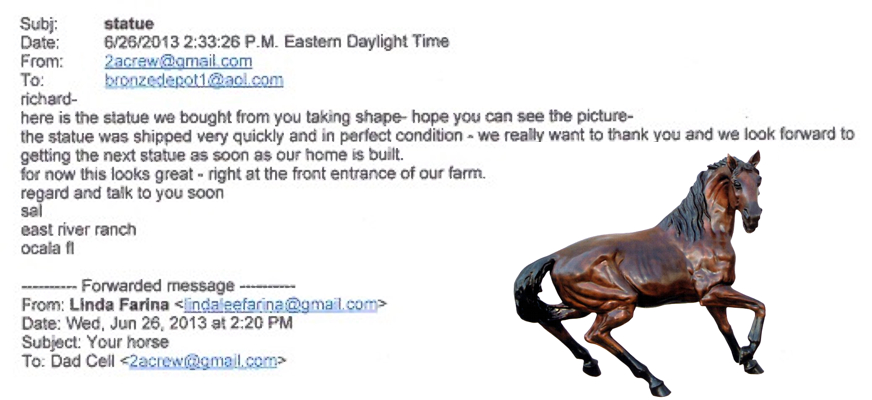 We Really Want to Thank You.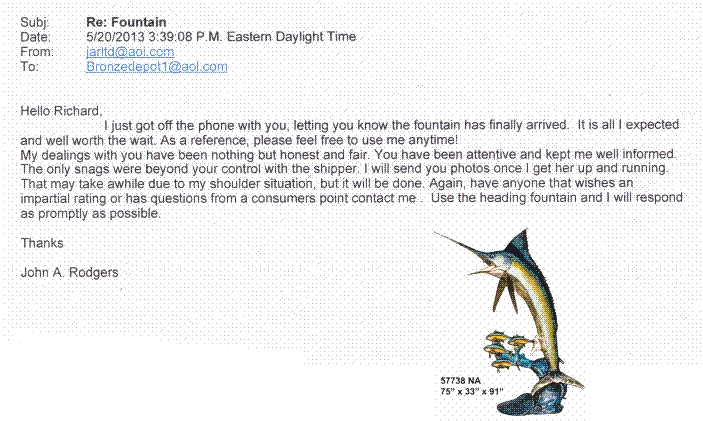 Honest and Fair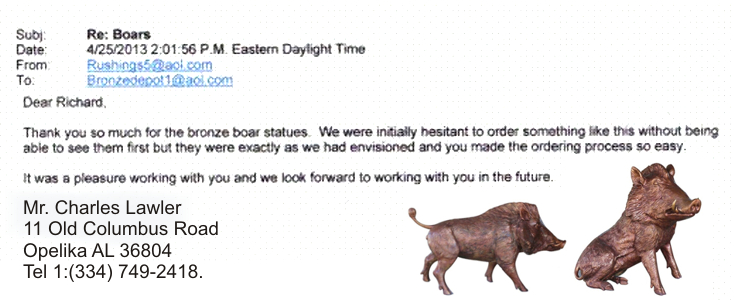 A Pleasure Working With You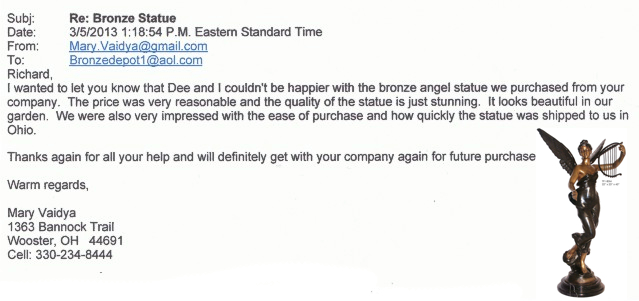 Could Not Be Happier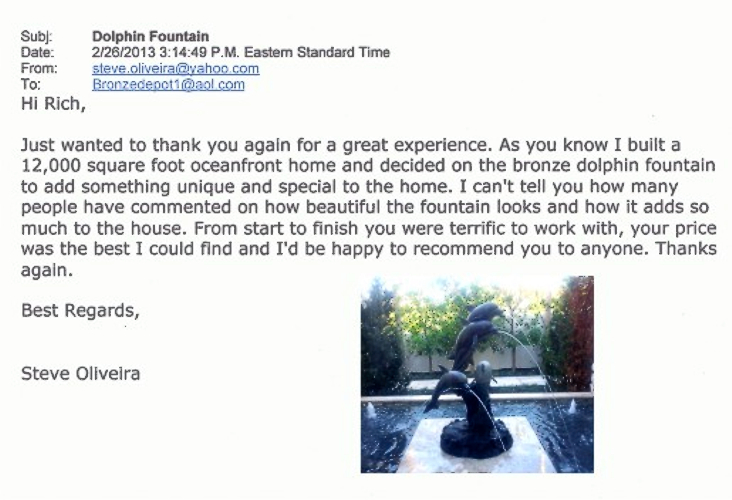 You were Terrific to work with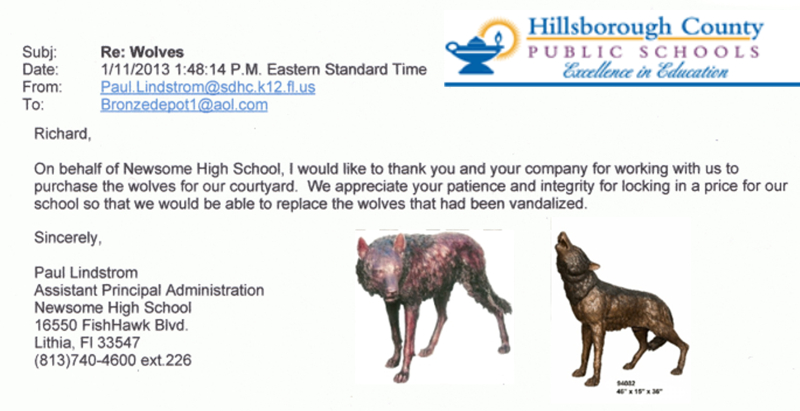 Newsome High School

Sigma Alpha Epsilon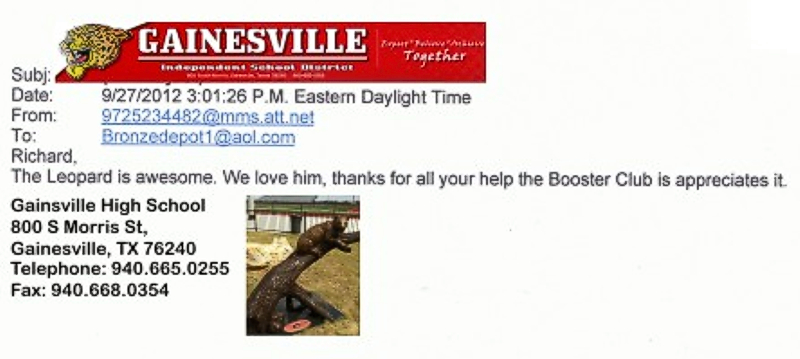 Gainsville H.S. Leopard is Awesome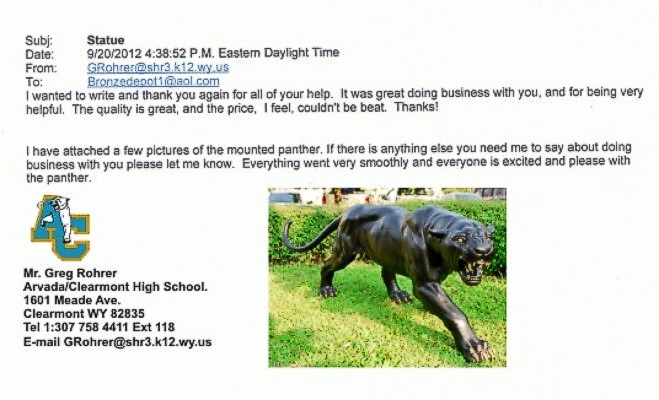 Arvada Clearmont High School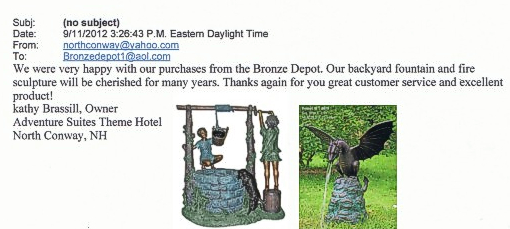 Great Customer Service and Products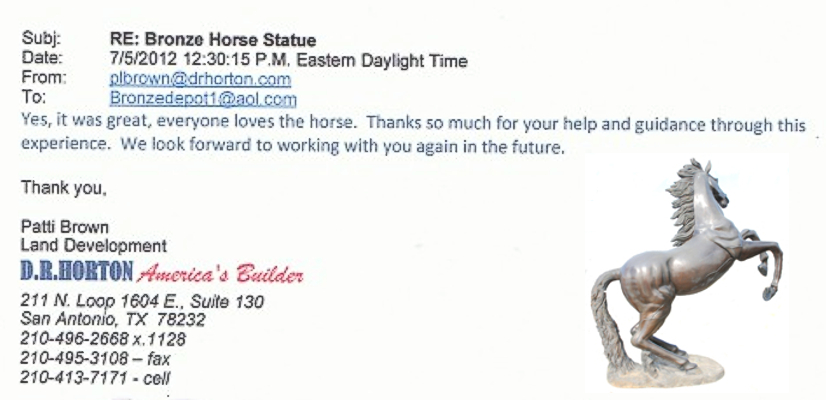 Everyone Loves The Horse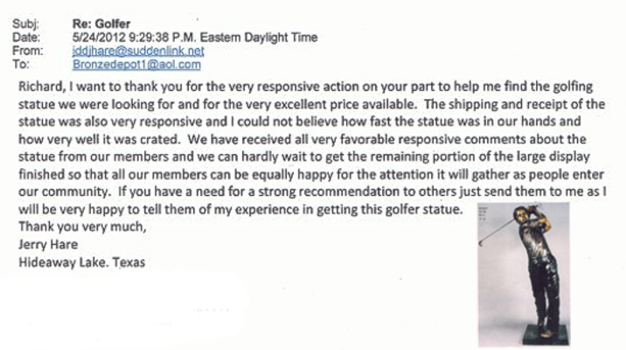 Happy to Recommend You!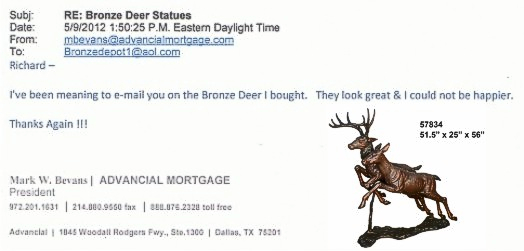 I could not be happier!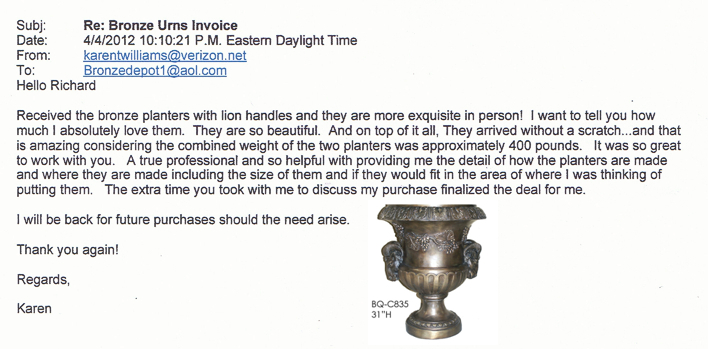 A True Professional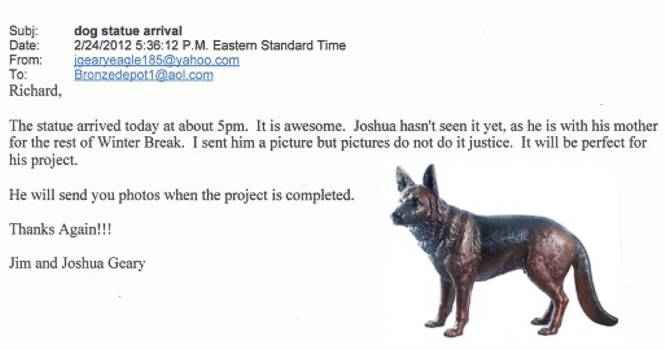 It is Awesome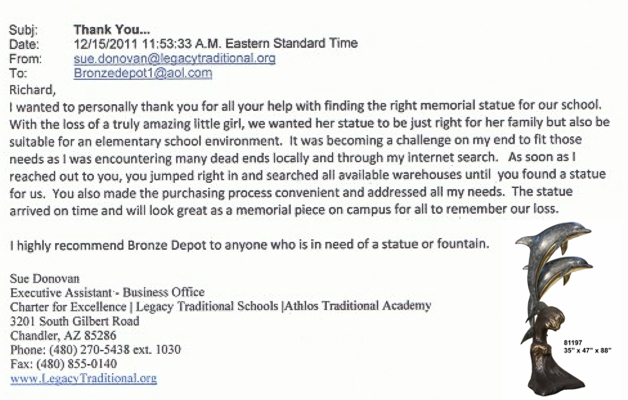 Legacy Traditional Charter School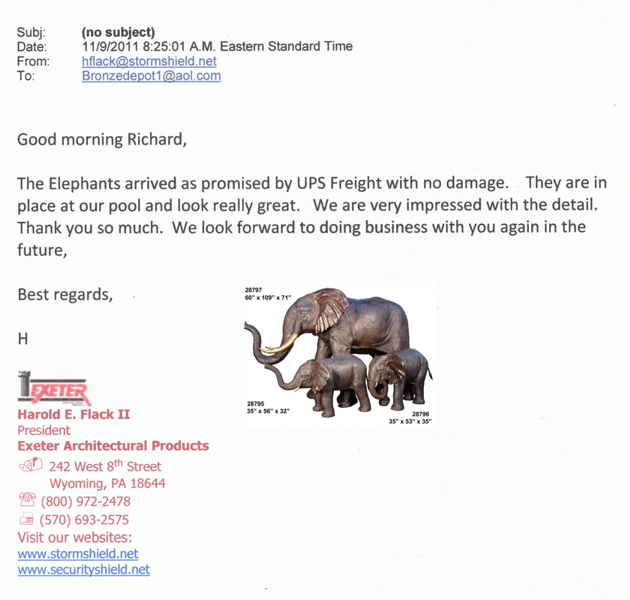 Very impressed with the detail

Very Good Experience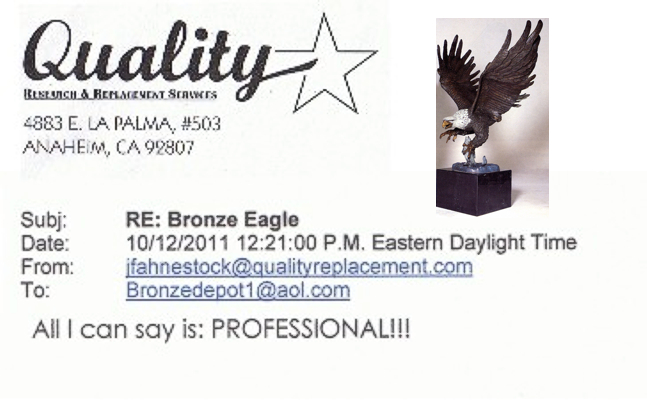 PROFESSIONAL!!!

Attorney General Alberta Canada

Looks Great at our Pool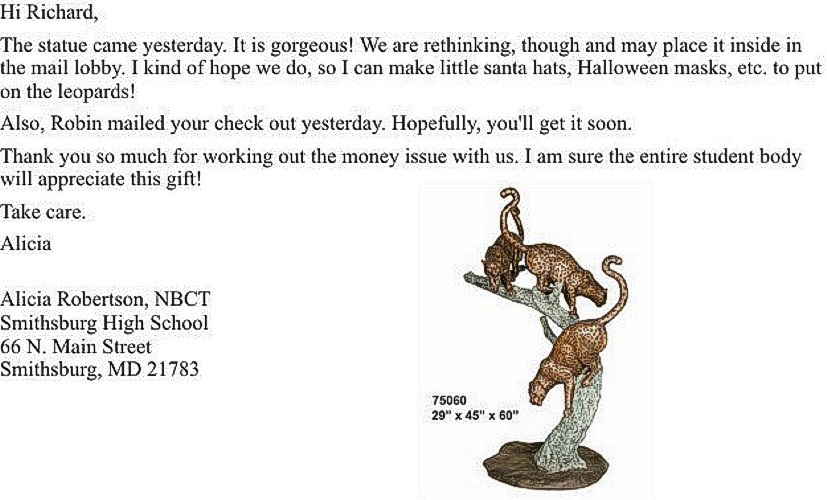 Smithsburg High School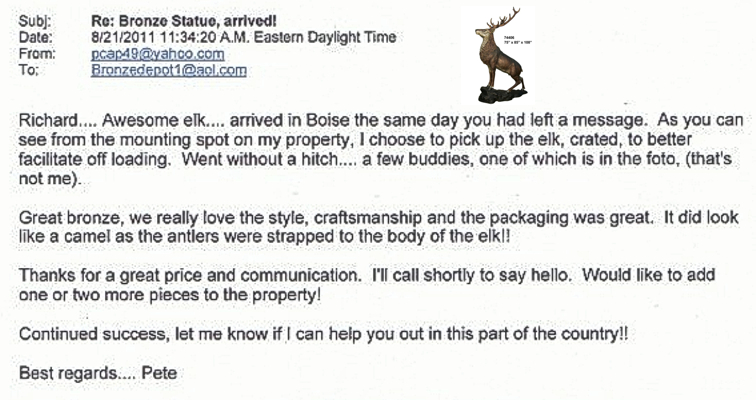 Awesome Elk

Very Pleased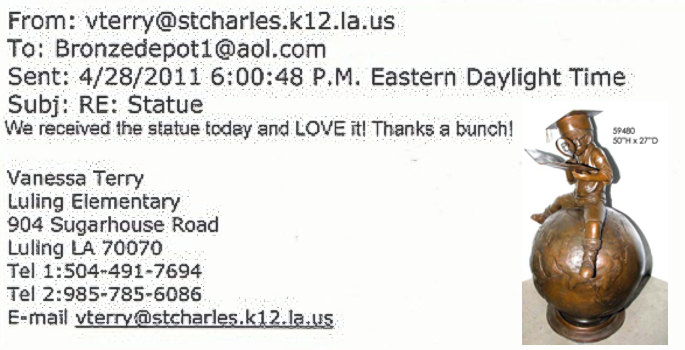 Luling Elementary School

Loved it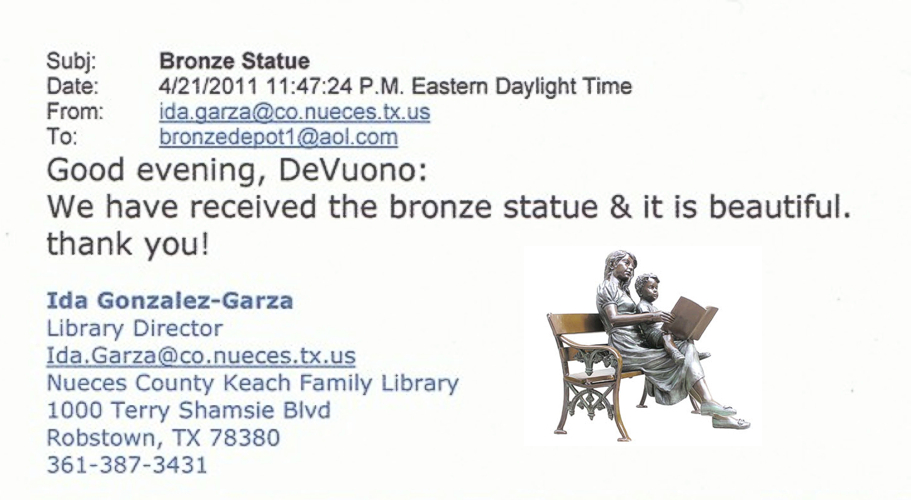 Keach Family Library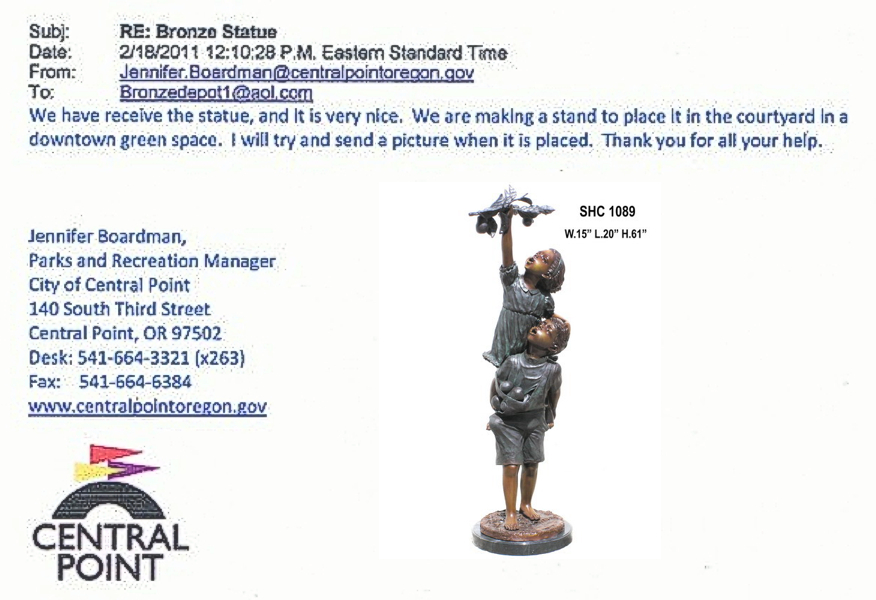 Central Point Park Rec. Dept.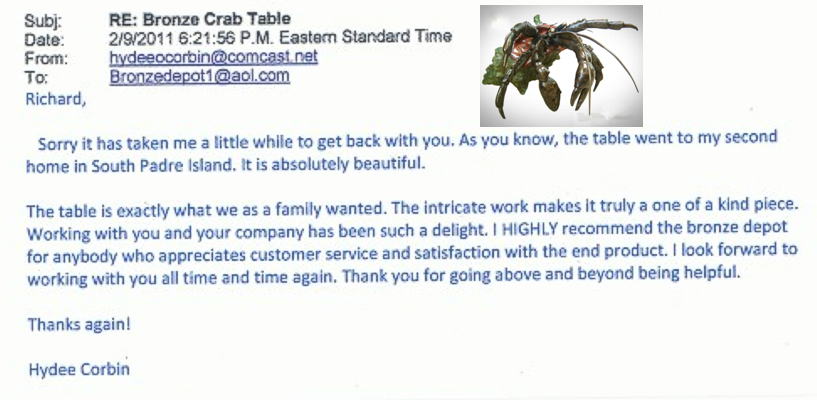 Highly Recommend Bronzedepot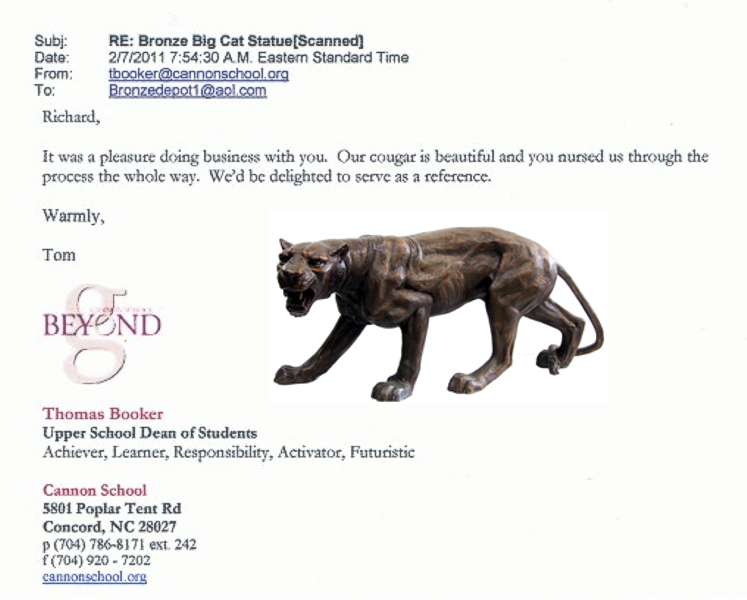 Cannon High School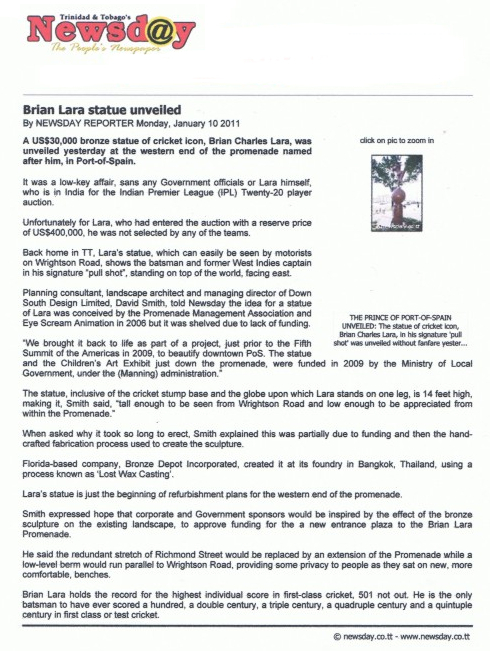 Trinidad - Tobago Statue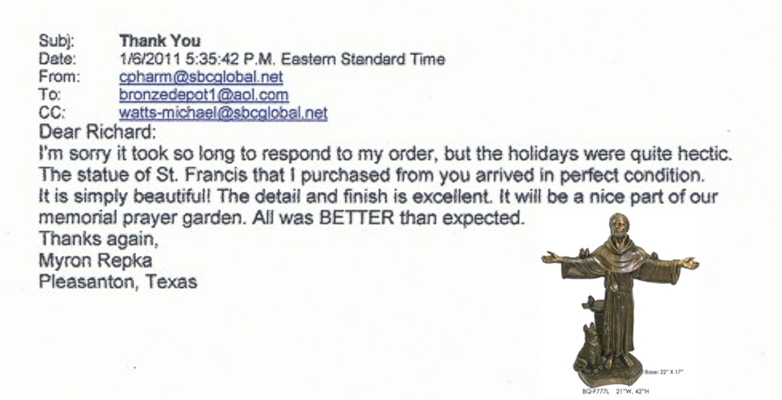 Better Than Expected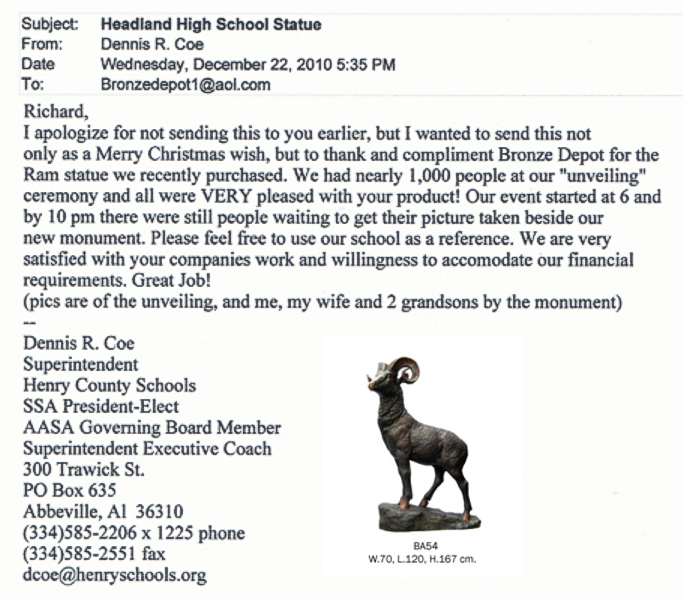 Headland High School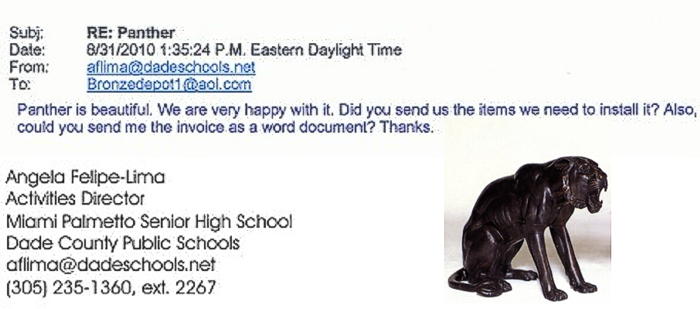 Palmetto High School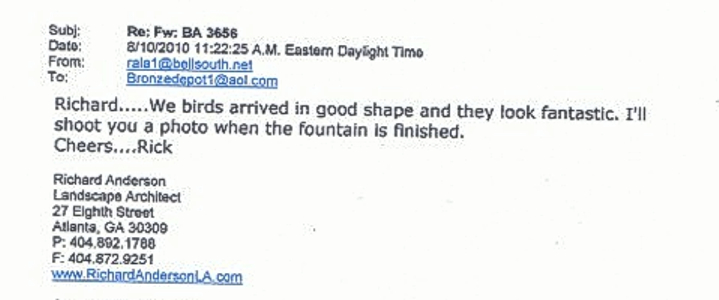 They Look Fantastic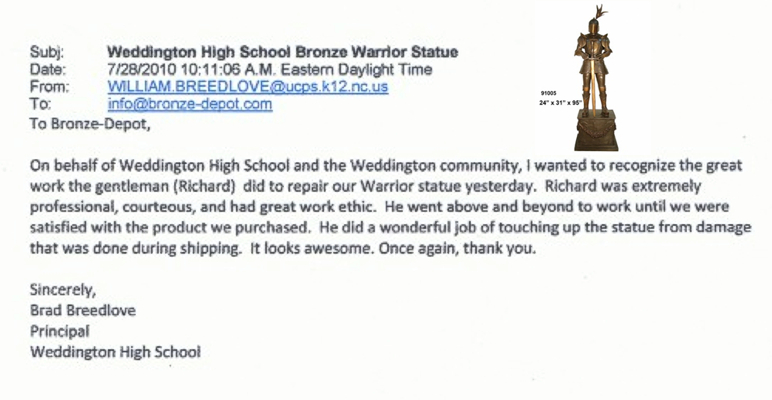 Weddington High School
Exceeded our Expectations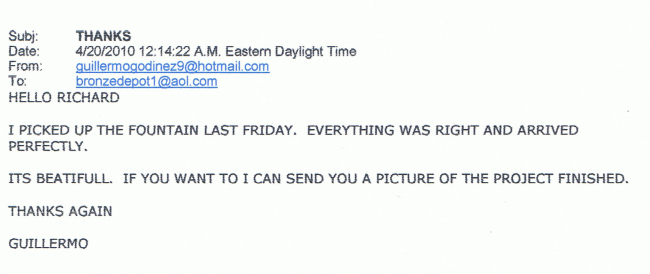 It is Beautiful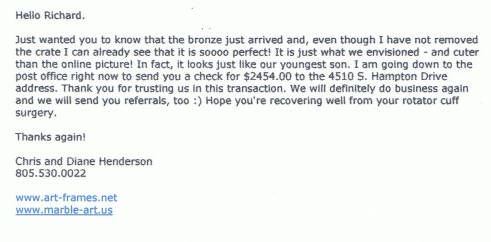 What we envisioned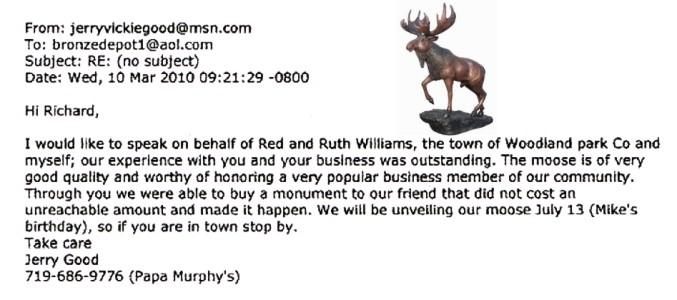 Our experience was outstanding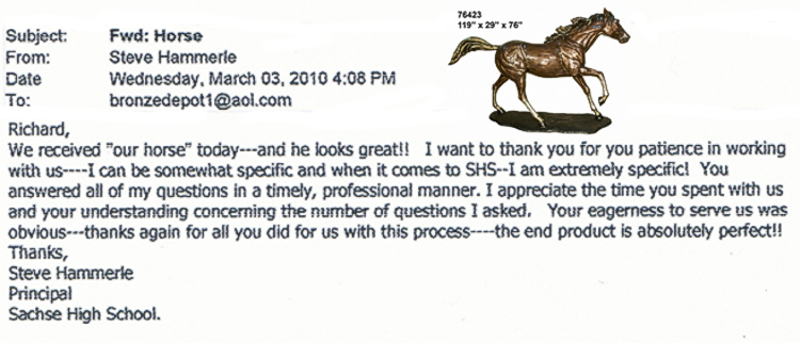 Sachese High School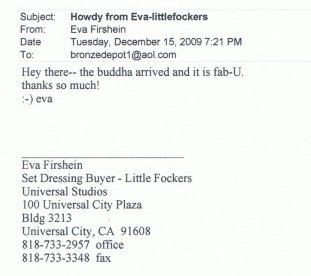 Universal Studios

Amazed by Fountain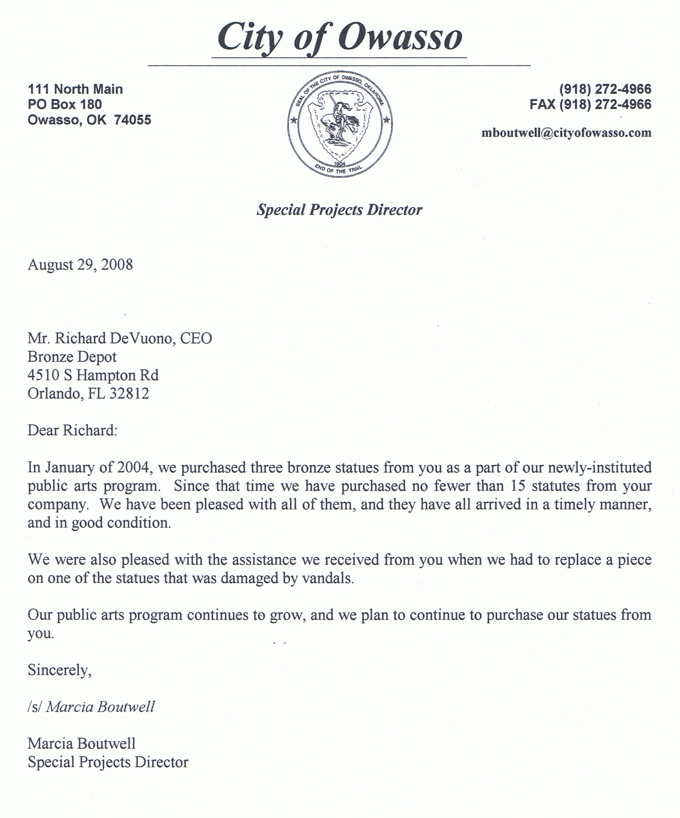 Purchased 15 statues from you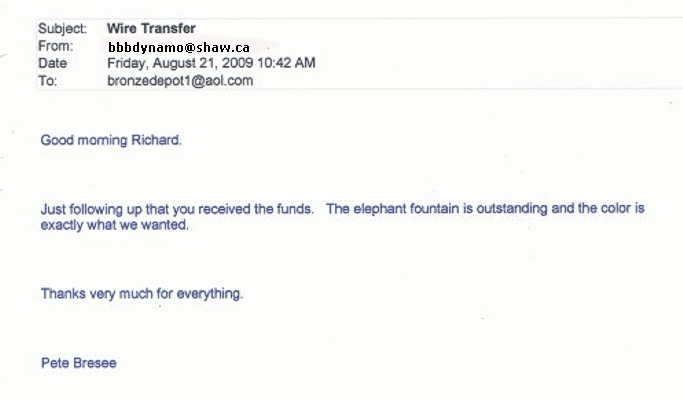 Fountain is Outstanding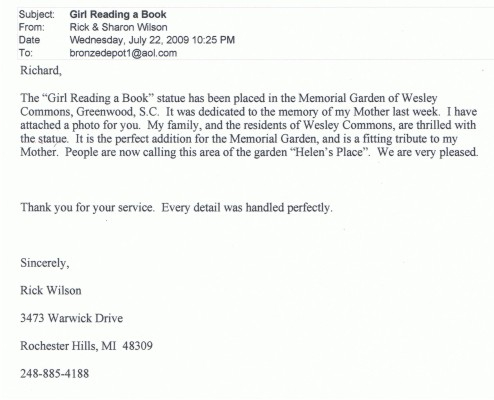 Tribute to my Mother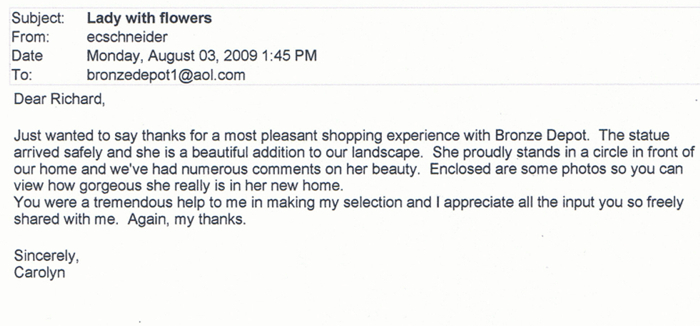 Pleasant Shopping Experience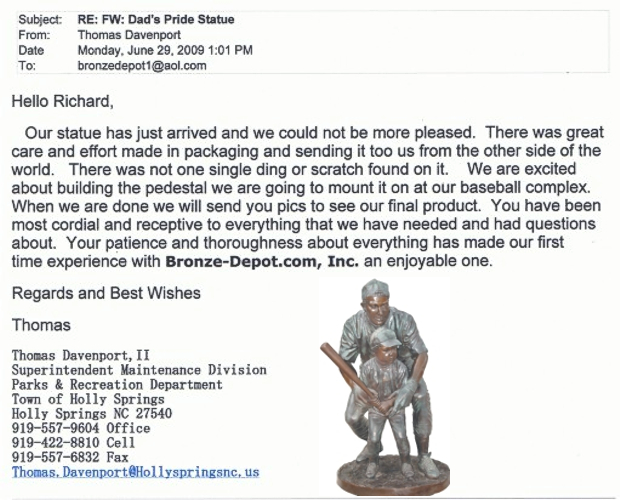 We could not be more pleased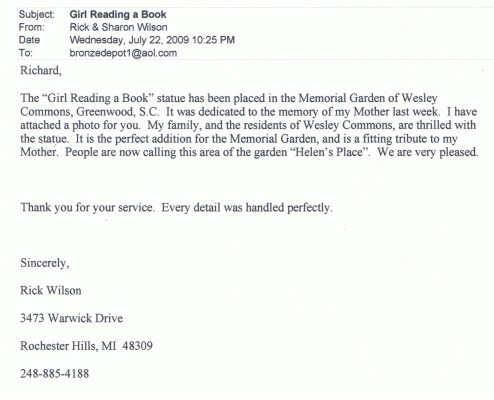 Every Detail Handled Perfectly

Professional Transaction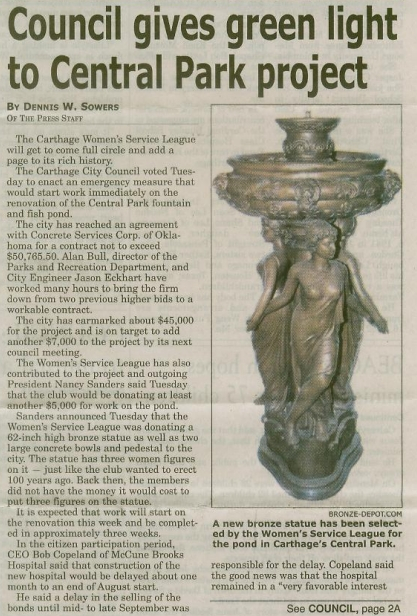 Central Park Project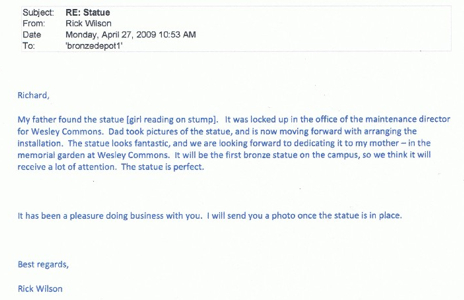 The Statue is Perfect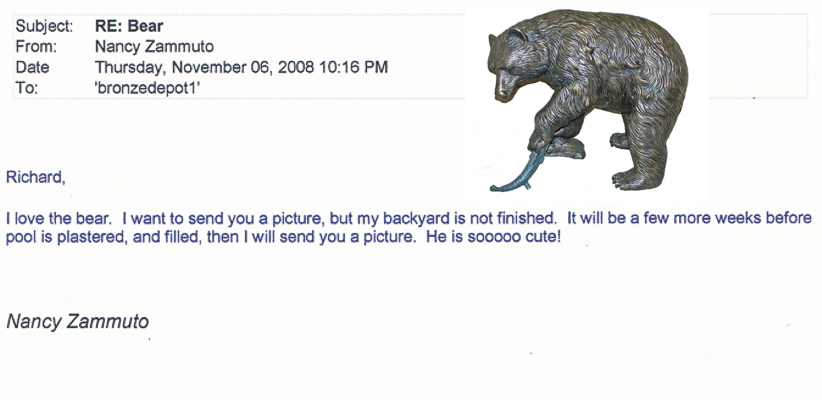 I love the bear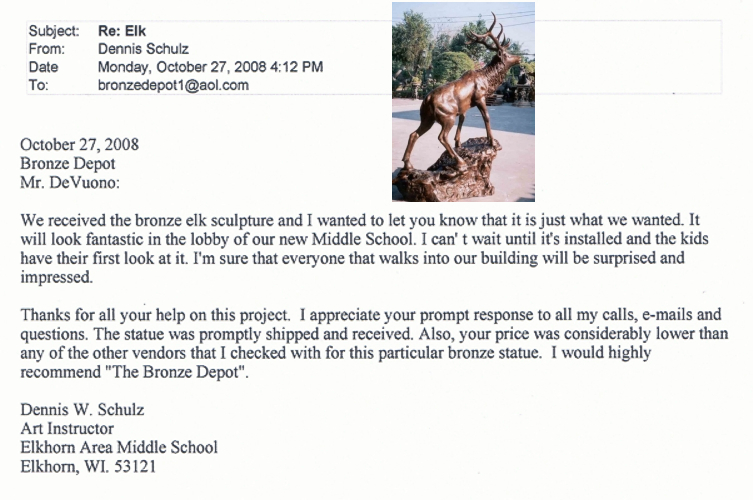 Elkhorn Middle School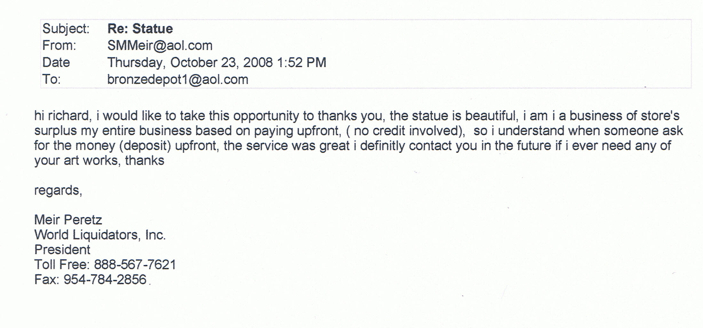 The Statue is Beautiful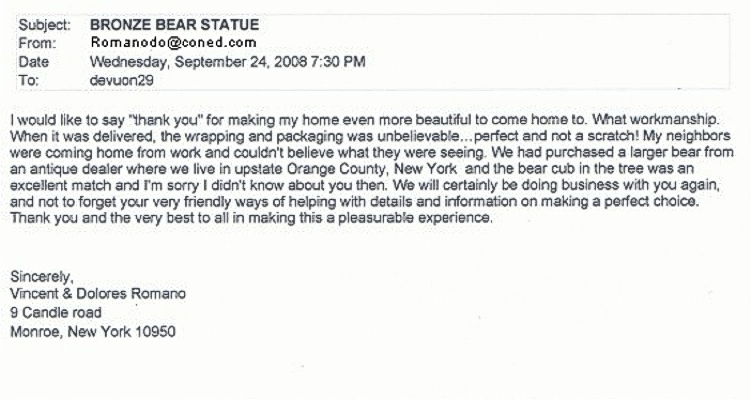 What Workmanship not a Scratch

Everything worked out perfect.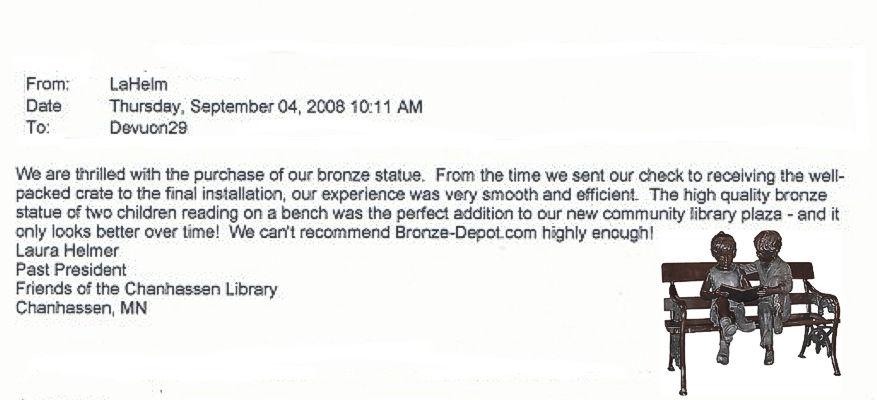 Chanhassen Library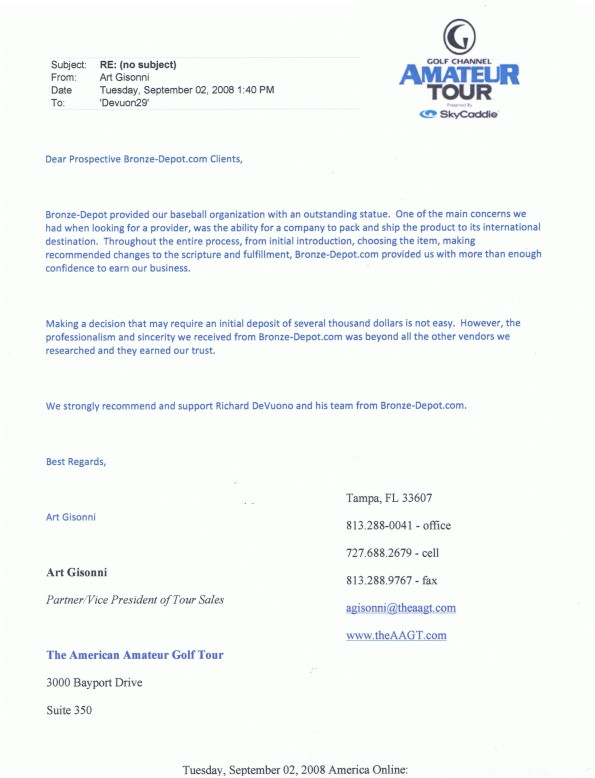 Golf Channel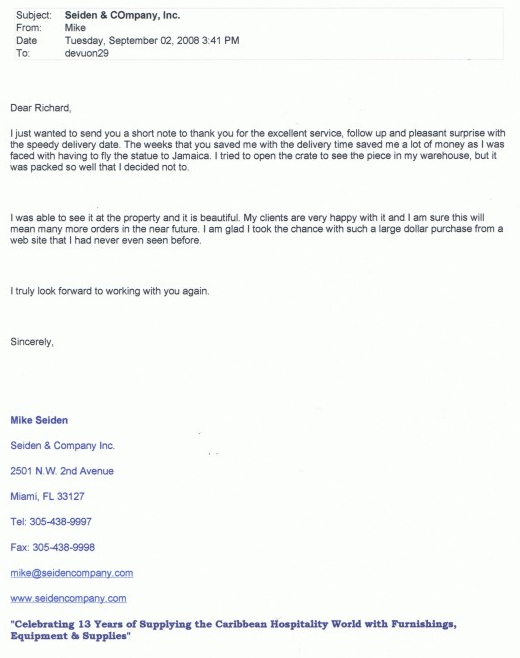 My Client is Very Happy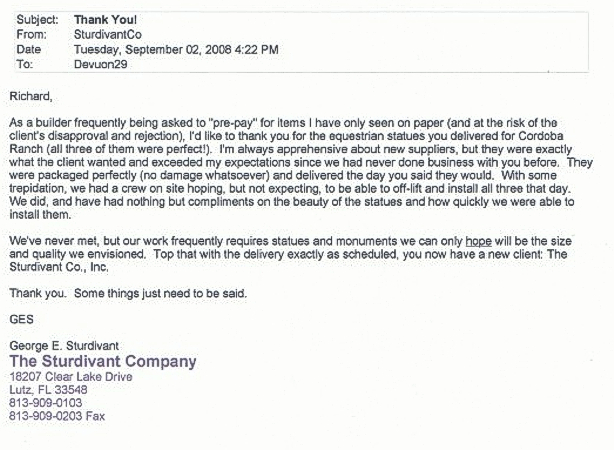 Exactly what my client wanted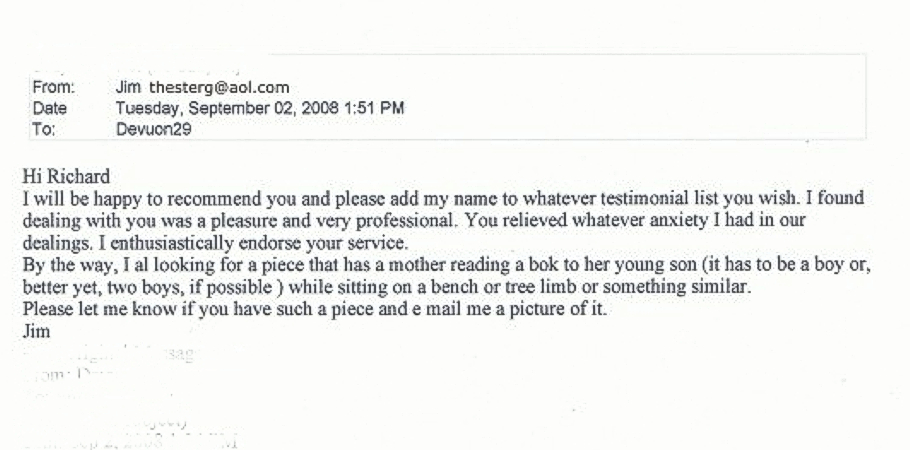 Happy to recommend you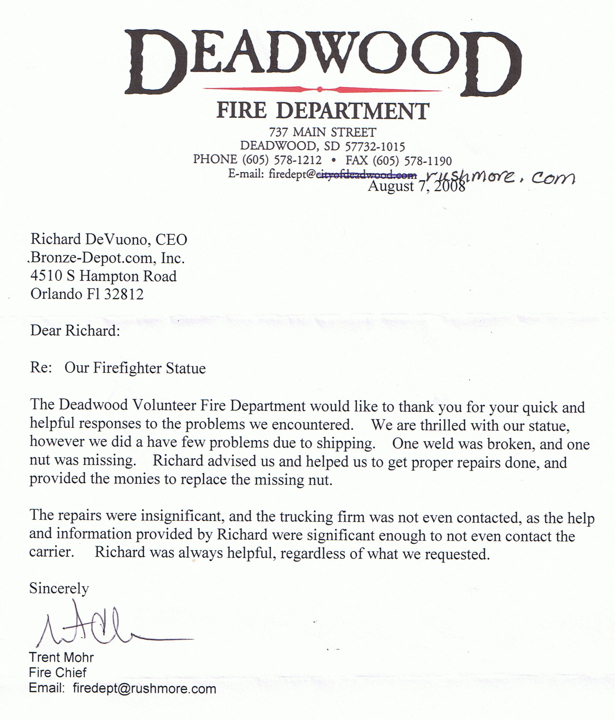 Deadwood Fire Dept.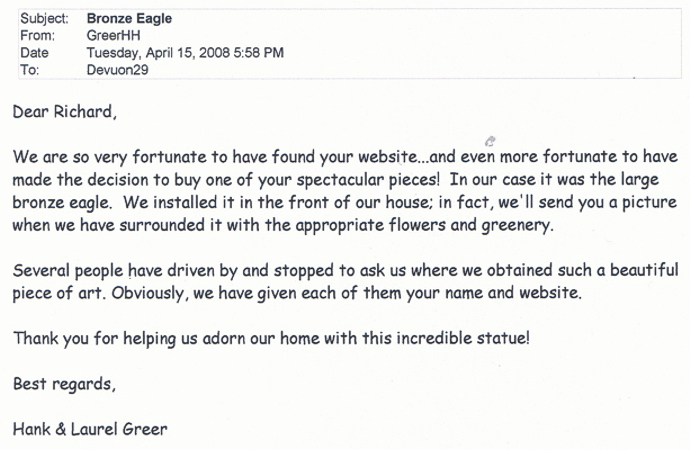 Thank you for helping us adorn our home

What a Work of Art

We Are Very Pleased

Statue Arrived, Lovely