"Thank you for great customer service"
ea.
Wishing Well Fountain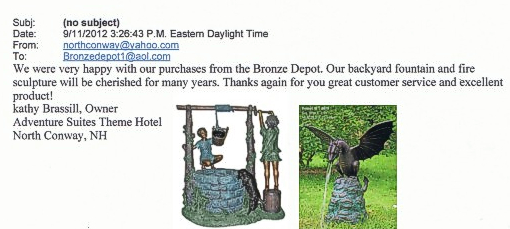 Bronze Wishing Well Fountain
Your own wishing well fountain. Bronze theme decorative fountain. A great addition for a home, pool, garden, resort, hotel, catering hall, lobby, park, office building, or any facility that wishes to make a statement. Fabricated in the lost wax method. A true work of art. Available in light to dark shades of brown, black, green, blue, or two-tone. An amazing conversation piece and a great photo-op.
Use indoors or outdoors this rugged, resilient fountain is impervious to the weather. Typical maintenance includes washing it with soap and water periodically. We provide free mounting tabs and instructions to make the installation quick and easy. Check out our references https://bronze-depot.com/references and see a partial list of our many satisfied clients. You won't find this fountain for less anywhere. To order or for more information call Maria (en Español) 321 804 4642 mailto:[email protected]